Power Pallets and GEK Gasifiers are at work, currently supplying carbon-lean energy around the globe. Click on one of the project links below to learn more about the specific ways APL machines are helping to solve the global crises in both energy availability and climate change.
---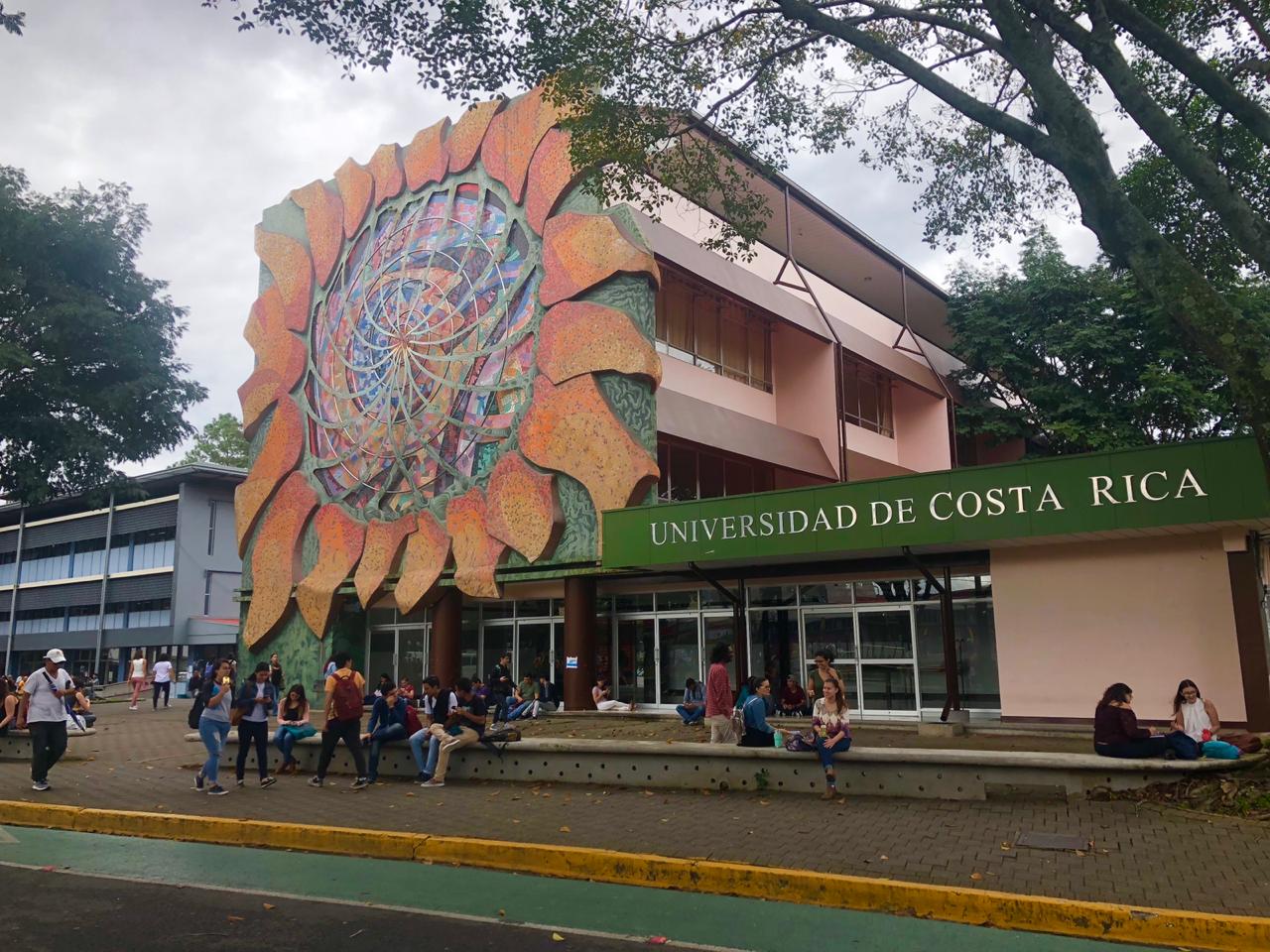 University of Costa Rica - November 2019
APL provided a new PP30 to the University of Costa Rica. More details and images will be coming soon.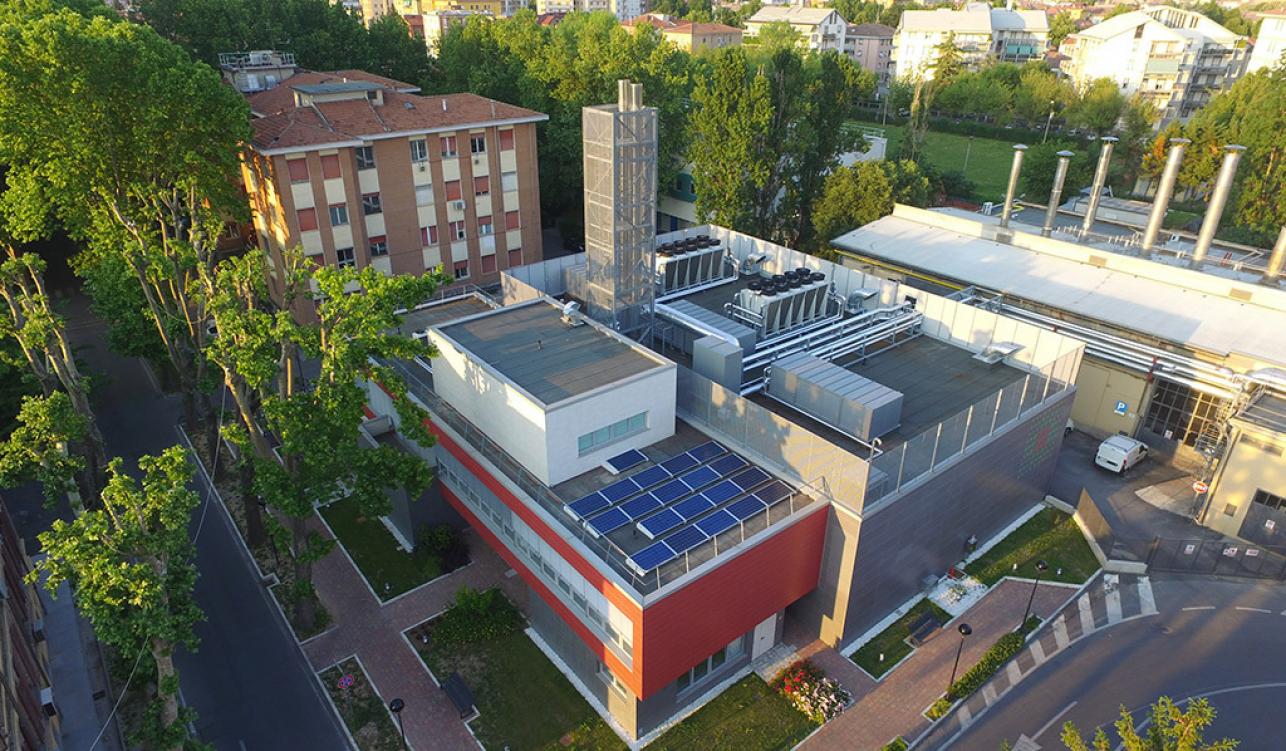 Siram, Parma, Italy - November 2019
APL provided a new PP30 to the Siram Group. More details and images will be coming soon.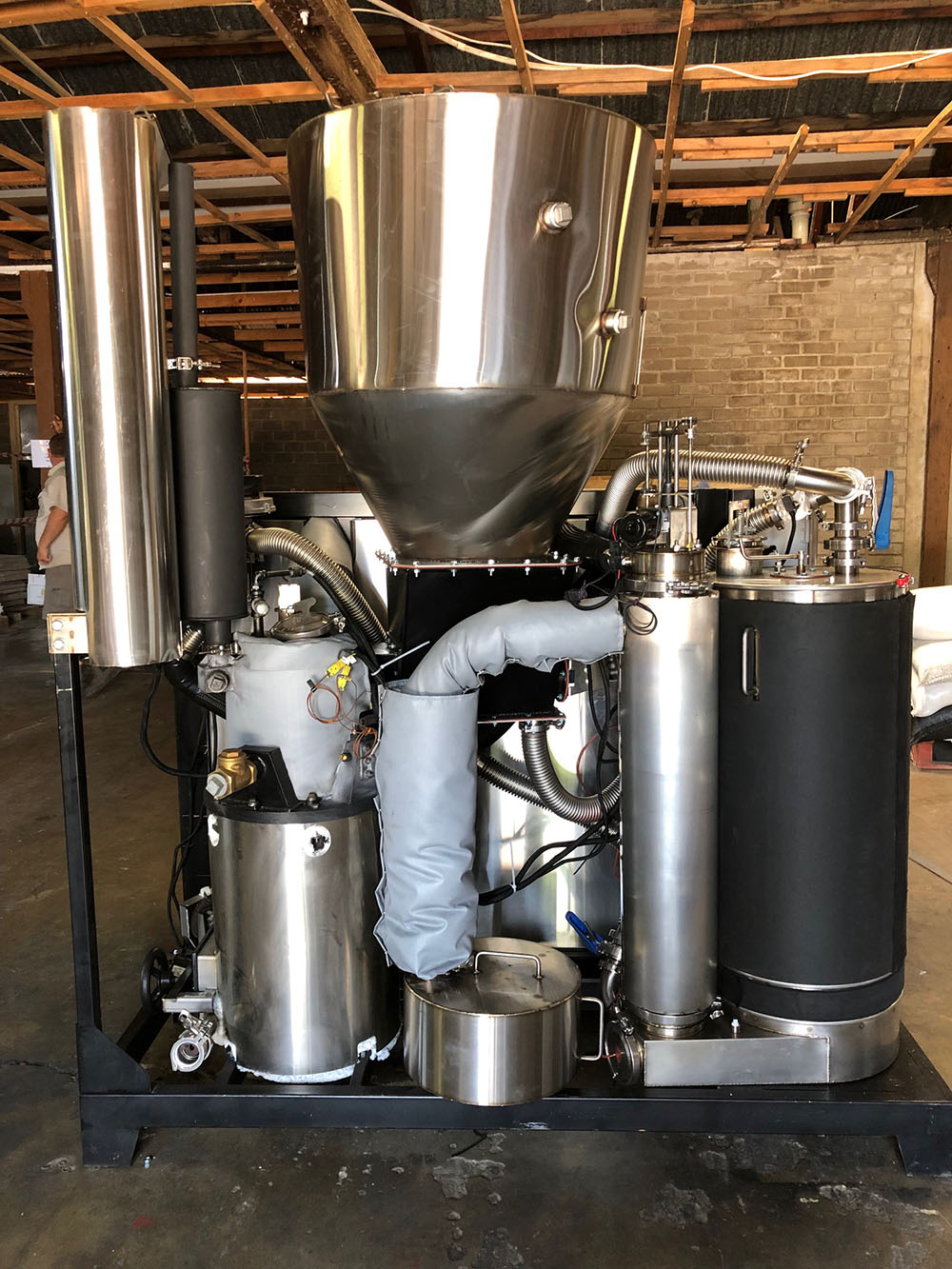 Ambermacs, Mpumulanga, South Africa - October 2019
APL provided a new PP30 to Ambermacs. More details and images will be coming soon.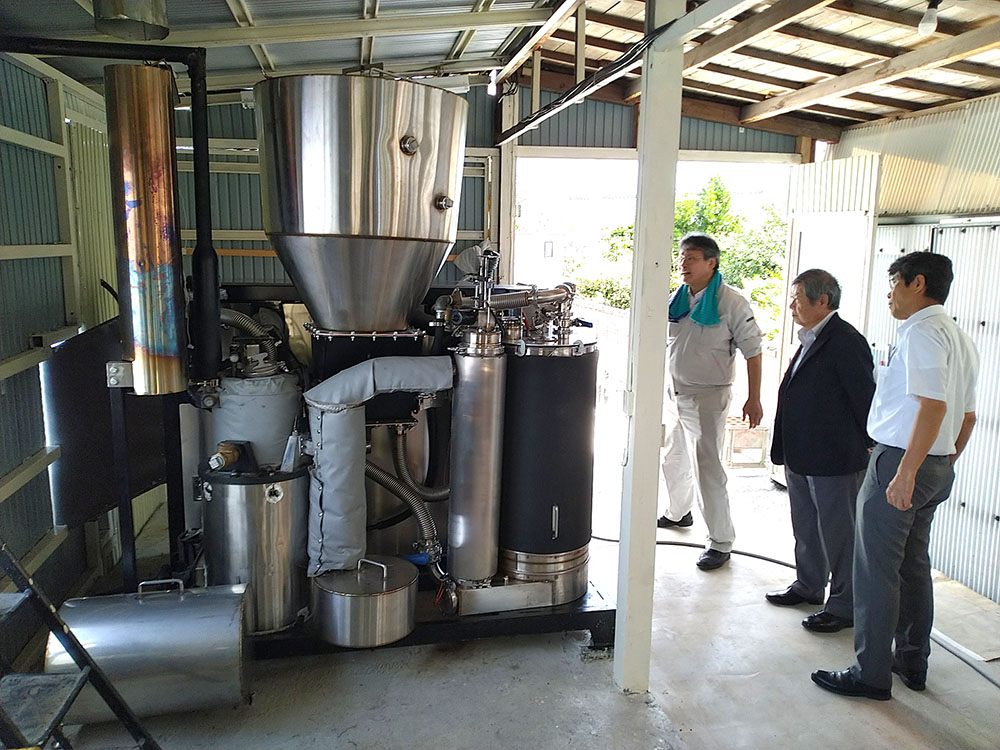 Ecostage, Tokyo, Japan - October 2019
APL provided a new PP30 to Ecostage. More details and images will be coming soon.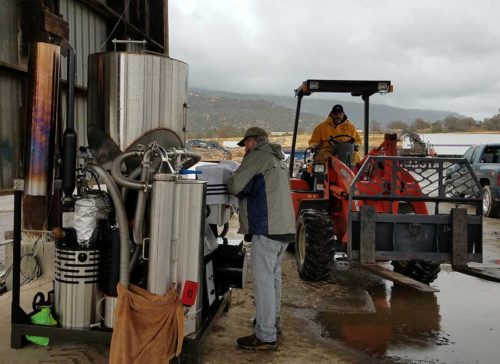 Sierra Resource Conservation District - June 2019
APL provided a PP20 to the Sierra Resource Conservation District (SRCD), the entity responsible for managing and protecting more than 3000 square miles of forest and foothills in the Sierra Nevada and Central Valley. SRCD operates the gasifier in wooded areas that have experienced wildland fire and insect infestations to demonstrate the PP20's capacity to reduce forest fuel loads and wildfire risk while sequestering carbon and generating on-demand electricity. These activities are part of SRCD's recently launched Carbon Management Program that aims to understand and manage the carbon cycle for both ecological and economical benefit. APL and SRDC were awarded funding for these activities by the California Department of Forestry and Fire Protection's Greenhouse Gas Reduction Fund.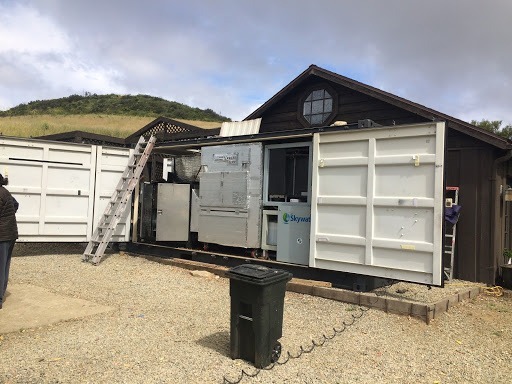 Hertz Ranch, Malibu, California, USA - January 2019
As Part of our partnership with the Skysource/Skywater Alliance, the prototype WEDEW Atmospheric Water Distiller, powered by a PP30, was installed at David Hertz and Laura Doss-Hertz's ranch in Malibu, California. Ongoing development, following our winning of the Water Abundance XPrize, is aimed at producing portable units able to be deployed at disaster sites worldwide.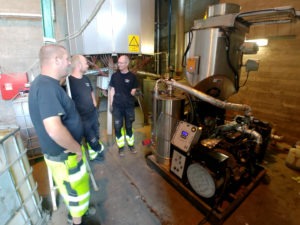 DeNova, Frederiksværk, Denmark – June 2018
This PP20 was purchased by DeNova, a waste recycling and reuse yard at the port of Frederiksværk, about 50 km northwest of the capital city of Copenhagen. They see it as a challenge to find value in what others may think is just trash, using modern techniques to sort waste into fractions that can be recycled or reused. One way they hope to reuse biomass waste is by gasifying it. They plan to use their PP20 to explore how our efficient CHP systems can best fit into their mission to mine potential resources from the waste stream, trying to save the environment at the same time that they grow a successful waste-based business. Adding value by offsetting waste-disposal costs is an important part of APL's design strategy.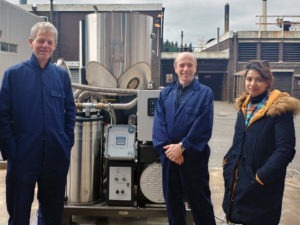 University of Chester, Chester, England, UK – May 2018
The Chemical Engineering department of the University of Chester in the UK installed a PP20 so that Professor John Brammer and his associates can study the details of the highly efficient thermal conversion in our GEK gasifier. The University of Chester is a public university with five campuses in the city of Chester, about 35 km south of Liverpool in northwest England. Professor Brammer has a Ph.D. in the production of energy from biomass, and considerable industrial experience in combustion (working on gas turbines at Rolls Royce). We look forward to Dr. Brammer's results using our technology and hope that others at the University of Chester find having access to this equipment useful in their work.

The University of Guyana, Greater Georgetown, Guyana - June 2018
The University of Guyana installed a PP30 to use for research in their Forestry and Agricultural schools on their Turkeyen Campus in Greater Georgetown.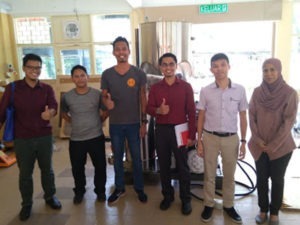 Universiti Teknologi Malasia Skudia, Johor, Malaysia – May 2018
We installed a PP20 at UTM to be used for research into sustainable technology. UTM is a leading innovation-driven entrepreneurial research university and the largest postgraduate research university for technology in Malaysia. It has also established a reputation for innovative education and cutting-edge research, with a vision towards the development of creative human capital and the advancement of technological innovation.





CIRAD, Montpellier, France - April 2018
CIRAD, the French Agricultural Research Centre for International Development, is an organization working for the sustainable development of tropical and Mediterranean regions. We installed a PP20 at their Montpellier campus in the south of France to advance their mission with their partners in the global South to generate and pass on new knowledge to support agricultural development.

The University of Newcastle, Newcastle, NSW, Austrailia - March 2018
The University of Newcastle is as committed as we at APL are to improving the process of gasification. They installed a PP20 as part of this effort. They believe innovations in this technology are not only important economically for industry, but also valuable to society's overall quality of life, health, and environment. We look forward to the results of their studies and effort to help reduce energy poverty and address climate change.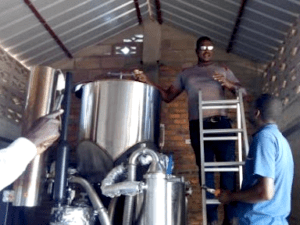 Rwanda Girls School, Gashora, Rwanda - Dec 2017
The Rwanda Girls Initiative operates the Gashora Girls Academy of Science and Technology – an upper-secondary girls' boarding school located in Bugesera District an hour south of Rwanda's capital city of Kigali. APL's tapped into its long-established relationships in Africa, especially with the Booker Washington Institute in Liberia, to place a PP20 at the Gashora campus. The school has an active agricultural program, operating a successful 14-acre farm on campus where they hope to perfect techniques for running the locally plentiful macadamia nutshells as feedstock.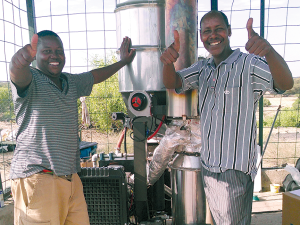 Turkana Basin Institute, Kenya - Mar. 2012
A PP10 was installed at the Turkana Basin Institute, Richard Leakey's remote archeological field station in northern Kenya, the energy from a 10kW Power Pallet is intended to offset their high diesel fuel costs. A world class research facility, centered in an area with some of the most extensive deposits of remains of ancient human predecessors, Turkana provides support for researchers from all over the world. APL looks forward to helping them upgrade to one of our more advanced PP20 to assist them in continuing their important work.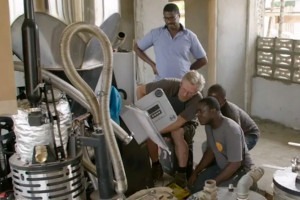 Kwendin, Liberia - December 2016
Kwendin is a remote village in Nimba County in central Liberia. It has a population of about 2000 inhabitants, and no access to the very limited national electrical grid. With funding from a USAID grant, APL, in partnership with Stable Outcomes are building a microgrid to supply electrical power to about 250 homes, public schools, churches and small businesses. Three PP20 Power Pallets are energizing the village's new and comprehensive microgrid which will also provide street lighting. This is an exciting project which builds on our BWI REC project and expands our commitment to addressing global energy poverty.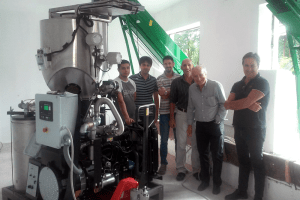 Hybridnet Project, Terni, Italy - Aug. 2015
The Hybridnet Project has assembled a team of young engineers devoted to building an alternative energy training center where they can help North and Central African refugees learn about sustainable development. The goal is to for them to create economically and environmentally sustainable local enterprises in their home countries, allowing them to make a living while providing a useful and environmentally friendly service to their communities. This goal matches well with APL's mission, and we want to help them succeed in any way we can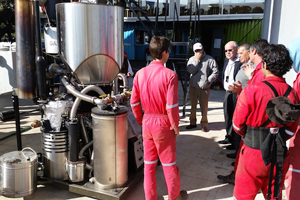 G2E, col. Santa Catarina, Coyoacán, Mexico D.F. - Jul. 2015
Green to Energy (G2E) is a renewable energy company located in Mexico City that specializes in gasification for energy production. They have added one of our PP20s to their demonstration center, which features a wide range of solutions for biomass energy, all the way from our portable 20 kW unit to small-town sized 2.2 MW systems. They share the same goals as APL: to help make energy from waste through gasification available to everyone. APL is excited by this new partnership with our neighbors in Mexico.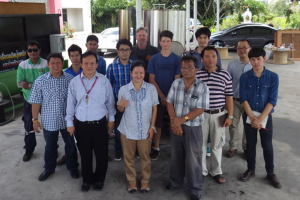 Zero Waste Co., Ltd., Bangkok, Thailand - Jul. 2015
Thailand's waste disposal system is organized nationally by the Royal Thai Government, resulting in a very comprehensive nationwide emphasis on recycling and waste reuse. Zero Waste Co., Ltd, installed a PP20 at their Bangkok facility to help expand the research and development of their refuse derived fuel (RDF) program. They specialize in waste to energy projects, using Municipal Solid Waste (MSW), Landfill Waste and Industrial Waste, in an effort to fulfill Thailand's aggressive and ecologically enlightened waste management policies. Zero Waste shares APL's mission of converting waste to power, and we will continue to work with them to advance this vital technology sector.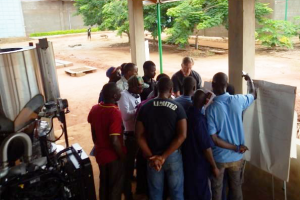 Songhai Centre, Benin, West Africa - May 2015
Our first Power Pallet was installed at the Centre Songhai, which will eventually be operating four PP20 Power Pallets at their headquarters at Porto-Novo in the Republic of Benin. In addition to their work with biomass gasification, Songhai is focused on sustainable agriculture as well as microenterprise and IT for rural communities. The center trains young Africans to become responsible citizens in their communities; supplying knowledge and expertise in a variety of sustainable technologies and practices. The facility integrates a large variety of power generation equipment as well as diverse agricultural techniques. We look forward to making the Songhai Centre a regional locus for the demonstration and development of our technology.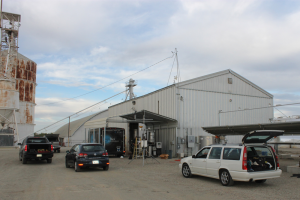 Biodico, Redrock Ranch, Five Points, California - Mar. 2015
Located at Redrock Ranch in the heart of the almond capital of the world: California's San Joaquin Valley, Biodico is working in partnership with the ranch, APL and the California Energy Commission to study a wide range of alternative energy solutions. With easy access to diverse and plentiful agricultural waste, Biodico has installed a newly upgraded PP20 Power Pallet v5.0 at this project site. This PP20 also has the earliest prototype version of our combined heat and power (CHP) option. This project was the result of their effort to convert into energy byproducts such as inedible seed meal from their biodiesel production. ALL Power Labs actively supports Biodico's efforts at Redrock Ranch toward sustainable agriculture and energy innovation.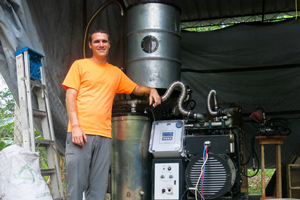 Limyè Pa w, Tuffet, Haiti - Feb. 2015
Operating as a socially committed private enterprise, Limyè Pa w has been making and distributing renewable, low-carbon power in Haiti since the beginning of 2015. Running their upgraded v5 PP20 on plentiful local corncobs, they currently operate 10 hours a day, six days a week, serving dozens of rural households. In Haitian Creole, Limyè Pa w translates to 'Your Light' - a reference not only to light as one of the most important uses of electricity, but also how their service can lead to many more powerful benefits for their customers' families and communities. Working in Haiti since 2013, they launched their rural electrification pilot early 2015 using Lumeter mini-grid meters to monitor and bill for customer usage. They have also installed an LPG dual-fuel system to allow increased grid uptime and reliability.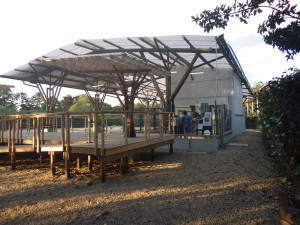 El Jardín Botánico, Bogota, Colombia - Nov. 2014
Two PP20 Power Pallets were installed in the José Celestino Mutis botanical garden. Located in Bogota, the Jardín Botánico is Colombia's largest botanical garden and serves both as a recreation and research center. Our biomass gensets are part of a program to create a sophisticated demonstration site featuring multiple forms of renewable power generation integrated into a micro-grid, which ties the PP20s to a solar array and an energy storage system. Their lovely facility is the focus of educational outreach surrounding environmental and conservations issues, as well as general science education for both children and adults. APL is pleased to be a part of this excellent program.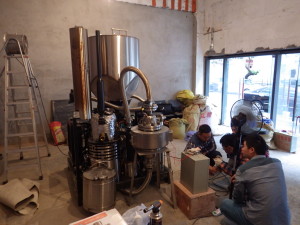 Green Energy GEE, China - Nov. 2014
Using a PP20 v5 and working with university partners, Shenzhen Green & clear world Environmental Engineering (GEE) is developing a syngas-to-liquid reactor. Focusing on the commercialization of environmentally responsible projects, GEE's Power Pallet is part of a program to process municipal solid waste (MSW) into a transportation fuel. They are working to integrate their system into the solid-waste disposal chain of a large Chinese city to develop a product based on its specific local needs. GEE is using a proprietary catalytic system that promises to increase the yield of syngas and lower the temperature needed, while minimizing tar and other by-products. The ability to process MSW in our gasifiers is a long standing, but still remote goal for APL, and we welcome GEE's efforts to solve this difficult problem.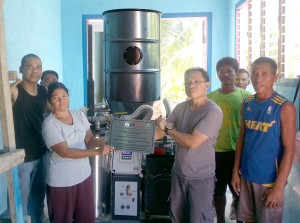 SURE Green Island, Palawan, Philippines - Feb. 2014
Our PP20 Power Pallet was Installed in Green Island, a small village island located about 14 kilometers off the coast of Roxas, Palawan, in the Philippines. The project is being developed by Solutions Using Renewable Energy (SURE) who are building a microgrid system tying a 2.5 kW solar array and a 5 kW wind turbine to our 20 kW Power Pallet. This grid is supplying power not only provide light and amenities to the village with its rural fishing and farming collective, but the PP20, running on locally abundant coconut shells is critical to the plan by supplying the high power loads that are needed to run a desalinization plant for their local brackish water supply, as well as an ice plant that will allow local fisherman to preserve their catch during the long and formerly impossible trip to more lucrative markets on other islands.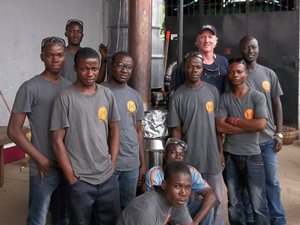 Booker Washington Institute, Kakata, Liberia - Jan. 2014
Booker Washington Institute (BWI) is one of the premier trade schools in West Africa. Three of our very first v.5 gasifiers to come off the line were installed at BWI's Renewable Energy Center (REC). Located in Kakata, Liberia, the historic center of Liberian rubber production, BWI is surrounded by over 100,000 acres of rubber plantations, whose trees need to be regularly replaced. These rubber trees that have outlived their productive lives are a vast biomass resource that can support our project indefinitely. APL has a deep commitment to, and very productive partnership with the BWI REC to help assure the success of this transformational project.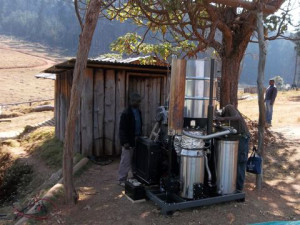 Chelinda Lodge, Nyika Plateau, Malawi - Nov. 2013
Our PP20 was Installed at Chelinda Lodge, a remote eco-lodge. Like so many eco-resorts, Chelinda faces enormous costs getting diesel to their remote location above Nyika ridge in the center of the largest national park in Malawi. With electricity costing over $.50 kWH, and a location adjacent to a large pine plantation that is being cut to restore the endemic grassland ecosystem, a bioenergy solution like a Power Pallet was the sensible choice for their site. The Power Pallet not only displaces dirty fossil fuel power and helps deal with their waste management, but its ample and affordable on-demand electricity sustains the more comfortable lifestyle eco-tourists prefer, insuring that these sorts of sustainable projects can continue to help Africa develop both economically and ecologically.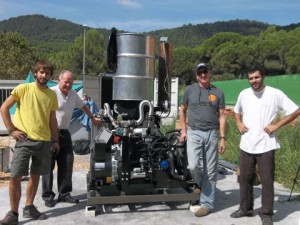 Mission Goundi, Republic of Chad - Oct. 2013
Installed for testing at the Polytechnic University of Catalonia in Barcelona, Spain, this PP20 is destined to be transported to the village of Goundi, Chad in Central Africa. The project is being done through the University, also known as Barcelona Tech, with support from Misión y Desarrollo para Goundi, a Chad based NGO. One of the reasons they chose to develop a biomass-based power system is that the fabrication, operation and maintenance of gasification technology is more accessible in less developed sites, and allows for increased employment with decent paying jobs that feed into the local economy rather than draining resources out of the community as cash payments to petroleum or solar companies.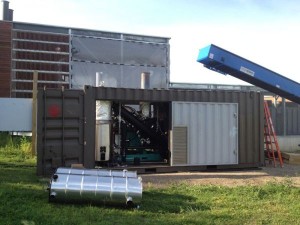 University of Minnesota, Morris, Minnesota - Jun. 2012
In a partnership with Cummins Inc., APL worked with University of Minnesota in Morris to develop a prototype shipping-container-based 100 kW genset running on Minnesota's plentiful agricultural waste corn cobs. With the help of a grant from the California Energy Commission, APL is currently partnered with University of California, Berkeley's Center for Forestry and their Renewable and Appropriate Energy Laboratory to develop this unit as a commercial genset: the 150 kW Powertainer. Our goal is to incentivize forest fire and bark beetle remediation in the Sierra Nevadas by creating a market for the forest waste as an energy resource.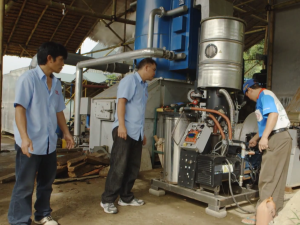 Village Hub, Suliwesi, Indonesia - Apr. 2012
The Masarang Foundation Integrated a PP10 Power Pallet into their sustainable Village Hub system for palm sugar harvesting on the Island of Suliwesi in Indonesia. Running on waste by-products from the palm plantations, the Power Pallet provided electricity not only for the Village Hub, but also for 40 homes in the area. A Power Pallet is an ideal addition to such integrated community agro centers, and we hope to expand our support for these transformative enterprises.