The first week is finished at COP21, with less than a week to go until the deal is (hopefully) done. APL is attending these climate accord meetings to raise awareness about the potential of biomass gasification + biochar to make carbon negative energy.  Gasification + biochar is a rare solution that can offset and replace fossil fuel emissions for contemporary power generation, as well as capture and and sequester additional carbon against previous fossil emissions. It is both fossil offsetting generation and atmospheric carbon drawdown together. The result is quite a few "a ha's" at our booth with consequential folk, so we're happy with the outcome and our ability to contribute to the exchange of ideas so far.
There are tens of thousands of delegates, activists, and business leaders here, all working to find common ground on which they can hammer out a binding agreement on limiting climate change.  It is a rare gathering of the world working with seriousness to solve the ultimate problem of the commons. The main thing that has struck all the APL staff here is the seriousness of the project, and the willingness of various interest to promote solutions that are beyond their immediate self interest.
Government and business here is further along than we would have ever believed, in accepting the climate problem as an existential issue, and responding with deep imperative to act now. There are of course many details and much horse trading, but the basic hurtle of achieving a critical mass of agreement that climate is a critical problem requiring a global response, and that that response is going to be difficult and hurt, has been achieved. We'll see what comes out in the deal at the end of the week, but currently the mood and specifics are surprisingly positive and forward looking.
The "we" of 50-100 years in the future may, in fact, not be completely doomed. Seeing the gathering here, I'm optimistic for the first time that this deep global problem might actually gather a human response on the scale needed to ( p
artially ) solve the problem.
Because it will impact so many, there's extraordinary media interest in the event  An army of media vans are beaming the story back around the world. You are probably seeing the results on your side of the world.
We even had a little press from our hometown newspaper.  The San Francisco Chronicle published a full page story about APL's work and its potential, noting "the [Power] Pallet can churn out electricity for less than diesel generators…and is carbon negative."  The snow sports magazine POWDER also wrote about the potential of APL tech to help keep snow in the mountains in the winter.
Having so many world leaders and visionaries in one place creates opportunities for high quality discussions and information exchange. For example, yesterday climate scientist Dr. James Hansen  and I had an exchange about the scale potential for the gasification + biochar solution.  Later I was able to talk with Sir David King, the head of the UK science advisors office, about biomass based power generators for higher power commercial needs in the large initiative the UK is starting in African rural electrification.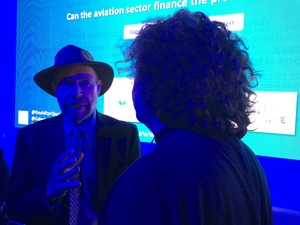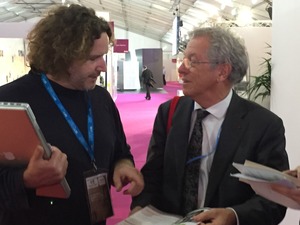 The booth for All Power Labs is at La Galerie Des Solutions, an exhibition of low carbon solutions, just outside the Blue Zone at La Bourget, where we've had a steady flow of visitors, like US Secretary of Agriculture Tom Vilsack (L), and Dean Cooper with UNEP ( R), and maybe you, too.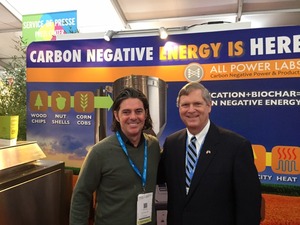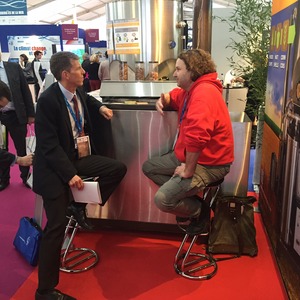 This expo is only open to accredited visitors, and APL is able to offer immediate credentialing to as many visitors as would like to come join us over the next day or so.  Write us at info@allpowerlabs.com if you would like one, or to set up an appointment time to talk.
The negotiations are in their last, most tense hours and much will change in the near times ahead, but for the moment at least the prospects remain positive. Stay tuned.
-Jim Mason
Founder and CEO