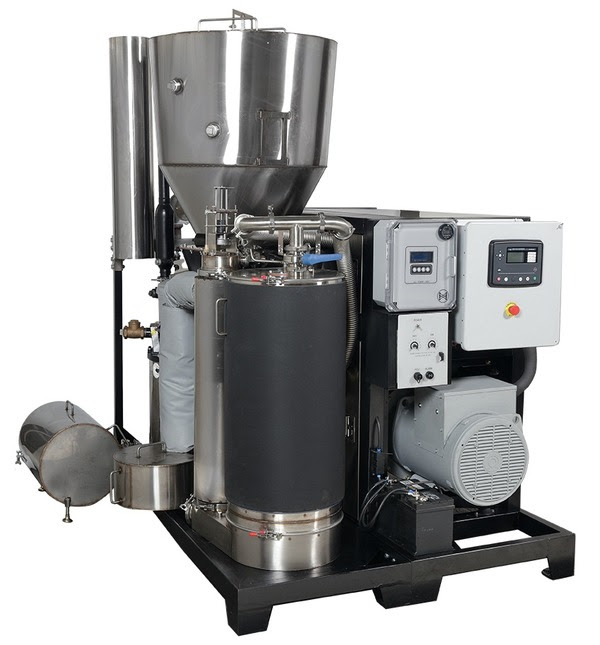 40 pre-orders available for the Power Pallet PP30, to enable lower-cost supply chain in 2020.
A year ago, All Power Labs released the Power Pallet PP30 Cogen as our completely new generation of the Power Pallet. This successor to the PP20 incorporates all we've learned in the last decade to make biomass gasifiers ready for daily use in the world, and carbon-negative power and products ready to scale for our climate management needs. Critical design changes focused on increasing power-generation capacity (both electricity and heat), reducing O&M costs across the board, and generally increasing reliability for high uptime use cases. Units are now being shipped regularly, with new machines recently installed in:
We're now ramping our production capacity in 2020 to fulfill customer orders and planned multi-unit project deployments. Our supply chain to make the Power Pallet now spans India, Philippines, China, and US suppliers, with final assembly in Berkeley, CA. To improve the cost, quality and regularity of delivery through this supply chain, we need to increase our order quantities. The route to scale for requires an ever-lowering price and ever-increasing value–and getting there requires increased throughput of a standard manufactured solution. We have come up with a campaign to book the majority of our 2020 production over the last month of 2019. The campaign provides a compelling package for our customers, and will equally enable us to close larger supply agreements with our supply partners. Booking a year of orders ahead will also strengthen the Series A fundraising effort currently in progress. Yes, we're finally raising outside capital to grow the internal capacity of APL beyond its current limits of self-funding. Here's the deal. Between now and December 15th only, we're offering special pricing and low deposit payment terms for 40 units of PP30 Cogen units. The detail terms are as follows:
Price – $66,550 MSRP – $15,000 discount = $51,550
Deposit Payment – $5,500
Balance payments – 40% at 8 weeks prior to shipment, remainder before shipment
Cancellation and Refund: 100% refund with 30-day notice.
Total Quantity Available – 40 units
Reservations are given on a first-come-first-serve basis. You schedule the delivery time in 2020 that works for you.
Add-ons beyond the standard full-featured machine (i.e. adding continuous feed and catalytic emission system) are extra
The motivation here is to encourage those with plans for multi-unit projects to start the deposits for the related machines. A deposit of $5,500 vs the usual 60% of invoice makes the deposit for a multi-machine purchase, multiples less than a typical single machine deposit. And with a mostly filled queue for 2020, we can start the larger purchase orders that reduce costs and justify this price reduction. This discount price and deposit terms are only available until December 15, 2019. Please be serious on your intent to complete the purchase if you start it. However, there is a 100% refund of deposit with 30-day notice if your plans change. We are trying to make this helpful and risk reduced for both you and us.
To place your reservation, or to ask questions about the sale or PP30 machine, please contact sales@allpowerlabs. Please include 40-30-20 in the subject line so we can keep track of the sale-related actions.

What's new in the Power Pallet
For those new to APL and the Power Pallet, here are the details for the generation change between the PP20 and PP30. At the launch last year we posted a full inventory of PP30 changes by subsystem, explaining motivations for each development, and what users should now expect in operation. The quantitative rendering of these changes are performance outcomes are in the Comparative PP20 vs PP30 Spec Sheet. A short summary is below
A totally re-designed filtration system that eliminates charcoal gas filter media and production of condensate. This redesign eliminates the most labor-intensive and frequent maintenance operation.
A larger engine and more efficient generator. Our new, high compression ratio and longer format generator results in higher power output and greater efficiency.
Standard enclosed genset for quiet operation and weather protection.
Standard grid-tie / paralleling hardware. Most everyone asks whether the Power Pallet can push electricity directly into the grid, or whether it can integrate with their existing solar / micro-hydro / small wind turbine microgrid. Grid-tie and paralleling hardware used to be an expensive option, but now all Power Pallets have this as a standard feature.
Standard CHP water heating, with higher efficiency. The new CHP system uses multiple stages of waste heat recovery to double the available heat compared to the PP20 with the CHP option. The PP30 makes available up to 2kW of thermal output per 1kW of electrical load.
Indirect heating of the drying stage. By indirectly heating the drying stage of the gasifier using recovered waste heat, we maintained the efficiency afforded by recovering waste heat while eliminating another labor-intensive maintenance operation—cleaning soot out of the drying vessel.
Larger char-ash vessel, and larger cyclone dust can. This allows the PP30 to run longer sessions at the same loads as the PP20.
In the year since launch, we've refined many details of the productization and manufacturability. The core functional changes remain the same, but system polish and ability to manufacture on schedule, with controlled costs and quality control, have greatly improved. We now have a frozen design that is in regular manufacture, and progressively in larger supply chain, to enable the scaled deployments we know many of you are planning for the coming year(s).

We hope this 40-30-20 sale will help both you and APL get to the scaling we've all worked so hard to prepare for over the last decade. We've all learned that solving gasification is hard. Many people and companies have come and gone over the challenge. It's a blessing that we've been able to work with continuity on the problem for over a decade, and can keep rolling in new learning. More improvements are on the way, now enabled by the new foundation of the Gen 2 machine. But as for today, we are very satisfied where the machine is, and are signing off on its fundamental components for growth production. We hope you can help us make this step change in our supply chain happen.

Thank you for your continued interest in APL and for following the long arc of our story. I continued to be amazed how many people surface today, and start by saying, "you know, I was watching you years ago with the GEK kits, back in . . .".

Jim Mason
Founder/CEO
All Power Labs