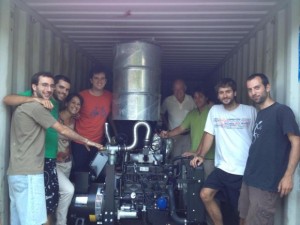 Installed in the Fall of 2013, this project based out of the Polytechnic University of Catalonia – BarcelonaTech, in Spain, plans to install a PP20 in the small town of Goundi in Chad. With support from the Center of Technology Transfer (CITCEA-UPC) at BarcelonaTech and the NGO, Misión y Desarrollo para Goundi, this project aims to build a power system fueled by the corncob waste that is plentiful around Goundi.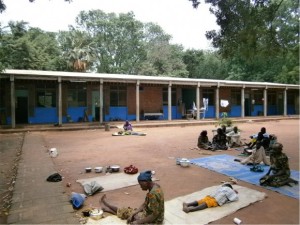 The electricity they generate is intended first and foremost to power their water supply system and local hospital, built 20 years ago, which currently uses wasteful expensive and polluting diesel generators. They are testing their PP20's performance in Cabrils, Catalunya, tuning it for corncobs and preparing manuals and instructional programs for the Goundi operators in their native languages.
They are hoping to use what they learn from operating our Power Pallet to design gasifier gensets that will be able to be built and operated in Chad by the local residents, eventually developing a self-sustaining economic model that will allow them to expand the project without additional outside support or investment. One of the advantages of our small-scale biomass generators is that the internal combustion engines, generators and the metal parts and vessels that make up the gasifier are all within the typical early 20th century skill sets and technology already embedded in even under-developed and remote areas of the planet.
While the numerous moving parts, high temperatures and complex chemistry inherent in a biomass gasifier genset do require much greater operation and maintenance input than a photovoltaic system, even when these parts and labor expenses are figured into the costs equation, the gasifiers can supply electricity at substantially lower cost than either solar or diesel. And most importantly, these costs are not exported from the communities where they are operated, but instead fuel their local economies by creating skilled jobs with transferable skills for the local inhabitants.