ALL Power Labs
offers biomass gasifiers and power generation systems at two different levels of assembly and system integration.  From
complete power systems
to
our experimenter/DIY kit
, you decide the relative amount of functionality you need in your finished system.
All our products are covered by a 100% money back guarantee
If you buy one and find yourself unimpressed with the total value of the product and project, we'll refund all your money (minus shipping costs)– we're that confident you'll be happy with the specifics.  See here for more specifics on our sales guarantee and warranty.
Priority Sales Regions
Special pricing and benefits are available to customers in Priority Regions which include:
North America West Coast – California, Oregon, Washington, Alaska, British Colombia and Alberta.
Europe – Italy, Italy, Spain, Portugal, UK and Ireland.
West Africa – Liberia, Ghana, Benin and Nigeria.
Island Southeast Asia – Philippines, Indonesia and Malaysia.
Contact our Sales Team for more information about demonstration sites and incentives available in these regions or to purchase one of our products.
We offer complete customer support and service, with a dedicated Support Team available to answer your questions, trouble shoot your installation, even travel to your site for setup and training.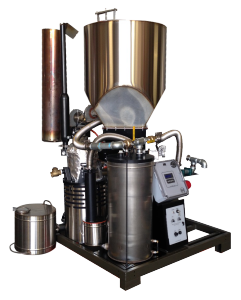 [NOTE: As of June 2017, this unit is currently unavailable, while we re-engineer it to match the new design of the Power Pallet].
It's back!  The machine that started a renaissance in small-scale gasification is available again, now in the form of fully integrated and automated gas-making system.
Why it's different: The GEK Gasifier makes it easy for beginners and experts alike to run high performance solutions in small scale gasification.  Whether you're a DIY enthusiast, university researcher or OEM manufacturer; the GEK Gasifier will get you over the starting hurdles and onto the more rewarding work of making clean gas for power generation or experimental studies.
For more information, see the GEK Gasifier kit page. Or Download the fact sheet here.
---
The Power Pallet is a complete biomass power generation solution that converts woody biomass into electricity.  It is a compact and fully automated system -from biomass in to electricity out- delivered at the breakthrough price point of $1.50 per watt equipment cost.
Why it's different The Power Pallet is distinguished by its ease of use, compact size and affordable price.  It is a solution that delivers the hands-off non-tended operation expected from contemporary power generation equipment.
PP20 GT (as shown), is also available with optional grid tie or for multiple unit paralleling capacity.
For more information, see the Power Pallet page. Or download the fact sheet here.
---
Accessories and Recommended Equipment
We offer two accessory systems that can help to optimize your installation:
Optional Accessory: Continuous Feed Airlock

To eliminate manual refilling of the hopper, ALL Power Labs is now offering a Continuous Feed Airlock as an option on all Power Pallets. Controlled by an Electronic Control Unit (ECU) with an array of sensors, this system allows a store of feedstock at ground level to be automatically fed, via a standard agricultural feed transport (not included), into the hopper through an automated gate valve on the hopper lid. The horizontal motion of the linear drive operating the gate valve is converted into a vertical sealing force by an innovative leaf spring system, ensuring an airtight seal and reliable operation.

The custom ECU, using an open-source processor with an APL -designed circuit board, reads data from sensors installed in the hopper and opens the gate valve when the feedstock is low, then signals the motorized feed transport to reload the hopper. Once it detects the hopper is full, the ECU shuts off the feed transport then closes the gate valve. This smart automation also reads gate position and motor-current sensors to assure safe operation for both operators and the Power Pallet. If problems are detected, the ECU will set the Continuous Feed system into various safe and stable modes and trigger alarms to alert the operator
Optional Accessory: Combined Heat and Power (CHP)

Our Combined Heat and Power (CHP) Accessory can be added to our Power Pallets, more than doubling their total system efficiency by adding the thermal output to the electrical output. APL's CHP System uses a flat plate heat exchanger to capture heat from the engine's cooling system in this stage 1 system to raise the temperature of the working fluid by as much as 14 °C.

This is possible because only 20% of the energy contained in the feedstock is able to be converted to electricity by our genset. Most of the other 80% is normally lost via heat in the engine's cooling system and exhaust. By recovering some of this heat, the CHP allows the total efficiency of the whole system to exceed 35% by delivering up to 20 kW of thermal energy in addition to the 18 kW of electrical energy. This heat can be pumped via the working fluid to other locations where it can used for radiant floor heating and numerous other processes.
Here are few third party tools to help realize all the potential of your gasifier system. We know of these from experience with some of our existing installations.
| | |
| --- | --- |
| | |
| The same DR 11.5 horsepower chipper in use every week on our project in Liberia. It's affordable and makes wood chips that are just the right size for the GEK. | Microgrid? You're going to need a metering system. These meters from Lumeter, in use on our project in Haiti, offer easy set up via simple remote controls. |