ALL Power Labs offers biomass gasifiers and power generation systems at multiple levels of assembly and system integration.  From "
Complete power systems
" to "
experimenter/DIY kits
," you decide the relative amount of functionality you need in your finished system.
All products are covered by a 100% money back guarantee.  If you buy one and find yourself unimpressed with the total value of the product and project, we'll refund all your money (minus shipping costs)– we're that confident you'll be happy with the specifics.  See here for more specifics on our sales guarantee and warranty.
We offer complete customer support and service, with a dedicated team available to answer your questions, trouble shoot your installation, even travel to your site for setup and training.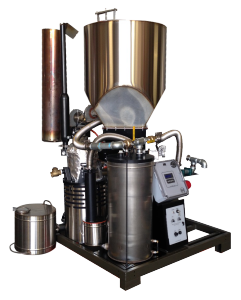 It's back!  The machine that started a renaissance in small-scale gasification is available again, now in the form of fully integrated and automated gas-making system.
Why it's different: The GEK Gasifier makes it easy for beginners and experts alike to run high performance solutions in small scale gasification.  Whether you're a DIY enthusiast, university researcher or OEM manufacturer; the GEK Gasifier will get you over the starting hurdles and onto the more rewarding work of making clean gas for power generation or experimental studies.
Price: GEK Gasifier, $16,995.  For more information, see the GEK Gasifier kit page. Or Download the fact sheet here.
---
The Power Pallet is a complete biomass power generation solution that converts woody biomass into electricity.  It is a compact and fully automated system -from biomass in to electricity out- delivered at the breakthrough price point of $1.50 per watt equipment cost. Now available with optional grid tie or multiple unit paralleling capacity.
Why it's different The Power Pallet is distinguished by its ease of use, compact size and affordable price.  It is a solution that delivers the hands-off non-tended operation expected from contemporary power generation equipment.
Price: PP20 Power Pallet, $24,995-$34,995, depending on feature set, add-ons, installation, and shipping costs.  For more information, see the Power Pallet page. Or download the fact sheet here.
---

PLEASE NOTE: this product is not for sale at this time. Expected deliveries in Q1 2016.
A fully enclosed, regulation-compliant version of the Power Pallet, with optional Combined Heat and Power (CHP).
Why it's different: The goal with the new machine is to offer a compact and fully automated biomass power and heat (CHP) solution for on-grid European and North American regulated markets, and to do so at 1/2 the price point of comparables on the market. New features include: sound attenuated enclosure, onboard grid tie, automated airlock and fuel level sensing for continuous fuel feed, catalyst exhaust system to meet premium emission standards  (<200 mg/m3 CO, <650 mg/m3 NOx; @ 5% O2).  Optional CHP using both radiator and exhaust heat.
---

PLEASE NOTE: this product is not for sale at this time. Expected first deliveries in Q4 2016.
ALL Power Labs has worked on developing a 100kW+ shipping container based gasification-genset system, aiming for a similar ease of transportation and onsite setup as the Power Pallet.
The Powertainer prototype was developed as part of a US Dept of Energy project with the University of Minnesota, Morris, Cummins Power, and the Diesel Research Lab of U of Minnesota, Twin Cities.  The prototype granting period has ended, with project success on stated goals.
In February 2015 APL won a $2M grant from the Califiornia Energy Commission to finalize design of a 150KW Powertainer in a 20′ shipping container. We are now seeking a limited number of  beta stage partners in California that might be interested in pilot systems during our development process. For more information, see the Powertainer page.
---
ALL Power Labs has developed custom electronics for gasifier process control and research data logging.  This is the equipment we use in house to develop and test our gasification systems, as well as build up the automation systems for our Power Pallets. We also offer affordable gas analysis equipment and general instrument kits to support researchers and students. For more information, see Electronics & Test Equipment page.
---
Recommended Equipment
Once you have your gasifier, you're going to need a few tools to help realize all the potential. Here are a few items we know from experience.
| | |
| --- | --- |
| | |
| The same chipper in use every week on our project in Liberia. It's affordable and makes wood chips that are just the right size for the GEK. | Microgrid? You're going to need a metering system. These meters from Lumeter, in use on our project in Haiti, offer easy set up via simple remote controls. |