| | |
| --- | --- |
| PP30 25kW Power Pallet | |
ALL Power Labs
offers biomass gasifiers that convert your woody biomass waste into electricity and biochar.
All our products are covered by a 100% money back guarantee
If you buy one and find yourself unimpressed with the total value of the product and project, we'll refund all your money (minus shipping costs)– we're that confident you'll be happy with the specifics.  See here for more specifics on our sales guarantee and warranty.
Priority Sales Regions
Special pricing and benefits are available to customers in Priority Regions which include:
North America West Coast – California, Oregon, Washington, Alaska, British Colombia and Alberta.
Europe – Italy, Italy, Spain, Portugal, UK and Ireland.
West Africa – Liberia, Ghana, Benin and Nigeria.
Island Southeast Asia – Philippines, Indonesia and Malaysia.
Contact our Sales Team for more information about demonstration sites and incentives available in these regions or to purchase one of our products.
We offer complete customer support and service, with a dedicated Support Team available to answer your questions, trouble shoot your installation, even travel to your site for setup and training.
---
Power Pallet PP30 (25 kW)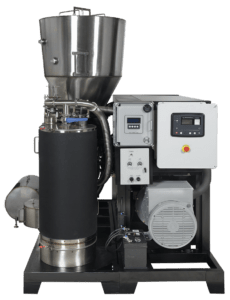 The Power Pallet is a complete biomass power generation solution that converts woody biomass into electricity.  It is a compact and fully automated system–from biomass in–to electricity out–delivered at a price point of $2 per watt equipment cost.
The Power Pallet PP30 is our most recent version of the Power Pallet biomass genset, with many enhancements and improvements from the prior Power Pallet PP20. It comes standard with grid-tie electronics for taking advantage of applications such as microgrids, feed-in tariffs, and net energy metering, as well as heat exchangers for heating water for combined heat and power (CHP) applications. The PP30 is also much quieter; the engine is now enclosed, and the cooling fans are low-noise electric fans that only turn on as the engine coolant needs cooling, such as when it is not being used to heat water. Power output has increased nearly 50% over the PP20, and the session runtime has been extended as well.
Why it's different The Power Pallet is distinguished among biomass power generation systems by its compact size and affordable price. Its integration of CHP capabilities with power generation and woody biomass disposal make it a perfect candidate for applications which find value in heat, electricity, and wood or nutshell disposal.
For the specifications of the machine, including the heat output of the CHP system, see the PP30 spec sheet.
The PP30 is now available for pre-sales to qualified buyers.
Please read over the Basic User Considerations to see if the PP30 is a good fit for your biomass power application.
Note: Incompatible feedstocks
The following feedstocks are not compatible with our machines:
Municipal Solid Waste (MSW)
Household Solid Waste (plastics, kitchen waste, etc.)
Wood pellets and briquettes
Saw dust
Rice husk, rice straw, wheat husk, wheat straw
Corn Stover and Straw of any kind
Chicken litter, and manure of any kind
Sugar cane bagasse (not even the pellets)
Shredded Tires, plastics of any kind
Olive Pomace, Olive Pits
Hemp canes and byproducts (not even the pellets)
Date Pits, Palm fronds or empty fruit palm fruit bunches
Coconut husk (coconut shells work well, just not the husk)
Mushroom growth media (which usually contains manure and saw dust)
---
Accessories and Recommended Equipment
We offer two accessory systems that can help to optimize your installation:
Optional Accessory: Continuous Feed Hopper System

To eliminate manual refilling of the hopper, ALL Power Labs is now offering a Continuous Feed Airlock as an option on all Power Pallets. Controlled by an Electronic Control Unit (ECU) with an array of sensors, this system allows a store of feedstock at ground level to be automatically fed, via a standard agricultural feed transport (not included), into the hopper through an automated gate valve on the hopper lid. The horizontal motion of the linear drive operating the gate valve is converted into a vertical sealing force by an innovative leaf spring system, ensuring an airtight seal and reliable operation.

The custom ECU, using an open-source processor with an APL -designed circuit board, reads data from sensors installed in the hopper and opens the gate valve when the feedstock is low, then signals the motorized feed transport to reload the hopper. Once it detects the hopper is full, the ECU shuts off the feed transport then closes the gate valve. This smart automation also reads gate position and motor-current sensors to assure safe operation for both operators and the Power Pallet. If problems are detected, the ECU will set the Continuous Feed system into various safe and stable modes and trigger alarms to alert the operator
| | |
| --- | --- |
| | |
| The same DR 11.5 horsepower chipper in use every week on our project in Liberia. It's affordable and makes wood chips that are just the right size for the GEK. | Microgrid? You're going to need a metering system. These meters from Lumeter, in use on our project in Haiti, offer easy set up via simple remote controls. |
Here are few third party tools to help realize all the potential of your gasifier system. We know of these from experience with some of our existing installations.