The Full Solution: PP20 Power Pallet

We no longer produce the PP20 version of the Power Pallet. See this page for our new PP30 Power Pallet. 

A complete biomass power generation solution that converts dense biomass like wood chips and nut shells into electricity and heat.  It is a compact, integrated system – from biomass in, to power out – delivered at the newly reduced price under $1.50/Watt.

The Power Pallet is comprised of the GEK Hot TOTTI multi-stage gasifier, spark fired industrial engine, generator head, and electronic controller. The system automatically adjusts syngas/air mixture via a wide band Bosch oxygen sensor, shakes the grate when needed, and removes ash via a mechanical auger. The Process Control Unit (PCU) monitors and responds to all internal reactor, filter and engine conditions, displaying the results on an LCD screen.

Power Pallet genheads are configurable to single, split or three phase, at 120/208/240 Vac, 60 hz or 50 hz, and are also available with an Optional Grid-Tie package allowing the PP20 to work with other power generating devices–such as wind or solar, as well as with additional Power Pallets, utilities or micro-grids–to generate reliable synchronized power.
Optional Accessories:

Continuous Feed Airlock System

To eliminate manual refilling of the hopper, ALL Power Labs is now offering a Continuous Feed Airlock as an option on all Power Pallets. Controlled by an Electronic Control Unit (ECU) with an array of sensors, this system allows a store of feedstock at ground level to be automatically fed, via a standard agricultural feed transport (not included), into the hopper through an automated gate valve on the hopper lid. The horizontal motion of the linear drive operating the gate valve is converted into a vertical sealing force by an innovative leaf spring system, ensuring an airtight seal and reliable operation.

Included in the systems are the automated gate valve assembly, the custom ECU, upper and lower level sensors and wiring harness.
Using an open-source processor with an APL-designed circuit board, the ECU reads data from the sensors installed in the hopper and opens the gate valve when the feedstock is low, then signals the motorized feed transport to reload the hopper. Once it detects the hopper is full, the ECU shuts off the feed transport (not included) then closes the gate valve. This smart automation also reads gate position and motor-current sensors to assure safe operation for both operators and the Power Pallet. If problems are detected, the ECU will set the Continuous Feed system into various safe and stable modes and trigger alarms to alert the operator.

Combined Heat and Power (CHP) Module

Our Combined Heat and Power (CHP) Accessory can be added to our Power Pallets, more than doubling their total system efficiency by adding the thermal output to the electrical output. APL's CHP System uses a flat plate heat exchanger to capture heat from the engine's cooling system in this stage 1 system to raise the temperature of the working fluid by as much as 14 °C.

This is possible because only 20% of the energy contained in the feedstock is able to be converted to electricity by our genset. Most of the other 80% is normally lost via heat in the engine's cooling system and exhaust. By recovering some of this heat, the CHP allows the total efficiency of the whole system to exceed 35% by delivering up to 20 kW of thermal energy in addition to the 18 kW of electrical energy. This heat can be pumped via the working fluid to other locations where it can used for radiant floor heating and numerous other processes.
---
Why it's different
The PP20 Power Pallet is the culmination of our long work to create an expertly engineered, small-scale gasification solution that is realistic for today's user.  While personal scale gasification has long held tremendous promise, the realities of making it work usually prove too much for regular mortals.  The high bar of operator expertise and extreme sensitivity to fuel particulars usually combine to make what seems simple in principle, exceedingly difficult in practice.
The Power Pallet has significantly widened this window for success by embedding the needed "expertise" in an onboard electronic brain. These smarts are further extended by a multi-stage gasification architecture, and an innovative "waste heat" capture and recycling system – what we call the Tower of Total Thermal Integration (TOTTI).   In traditional systems, hot engine exhaust and hot output wood gas have been "problems" requiring extra space and cooling components to counter.  With the GEK TOTTI, we've transformed these "wastes" into useful new inputs to the gasification process.  It's like adding a new "free" heat source to fix the old and well known thermal challenges of a gasifier.
This Gasifier-Engine thermal integration significantly improves tar conversion, fuel flexibility and general efficiency of the gasifier-engine system.  It enables the Power Pallet to solve the tar issue in the reactor, rather than in a large downstream filtering system, significantly reducing the cost, complexity and installation footprint in the process.
The result is a compact and technically advanced solution. It is a solution that can deliver the largely hands-off, untended operation we expect from contemporary power generation equipment.  And given its minimized component architecture, we can also deliver it an unprecedented price point that makes sense without subsidies or other artificial financial supports.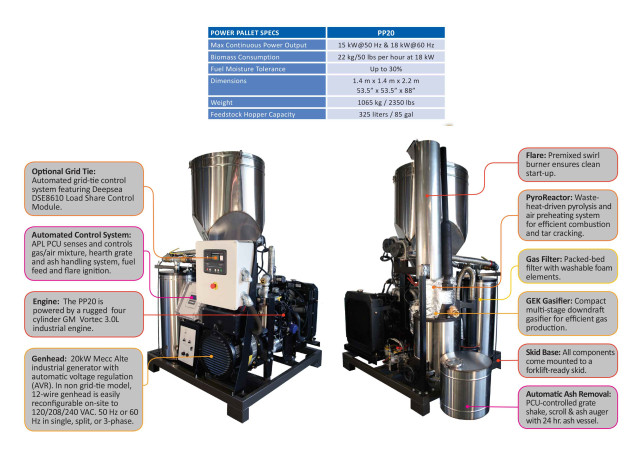 Engine and Genhead:
The Power Pallet uses a GM Vortec 4 cyl 3.0 liter spark-fired engine.  These engines are known for their extreme longevity and are all cast iron industrial engines, optimized for dry gaseous fuels.
The engine is mated to a Mecc alte genhead with automatic voltage frequency and 3x rated amperage at surge for high machinery start capacity.  The genhead is 12 wire so they can be configured to single, split or three phase, in wye or delta configuration and supports all common global voltages: 120, 208, 240 and 400V AC, at either 50 hz or 60 hz.
Actual power produced is highly dependent on the fuel shape, size and moisture content.  Solid biomass is not the consistent fuel source like we assume with diesel or gasoline.  We have used  "20 kw" to represent the peak power production capacity; average maximum constant output will be somewhat less: 15 kW/hour at 50 Hz and 18kW/hour at 60 Hz.
See here for complete photo set the GM-Meccalte based 20 kw Power Pallet.
ENGINE AND GENHEAD MANUALS are available here.

Support
ALL Power Labs provides extensive customer support before and after a sale, online and in person, to help you get your project up and running. This includes:
The Power Pallet product documentation
Pre-Sales consulting at sales@allpowerlabs.com
On-site commissioning and training for a nominal fee
---
Shipping
Weights & Dimensions
Skids are built in the common 48″ x 48″ form factor, to enable shipping via typical pallet freight services.
Once crated, the shipping weights and dimensions are:
Crate 1 of 2  (main unit):
Weight: 1527 / 693 kgs
Dimensions: 57″ x57″x 54″
Freight Class: 70
B Schedule: 8502.20
HTS/TARRIFF Codes: 8502.20.0070
Crate 2 of 2 (hopper):
Weight: 200 lbs / 91 kgs
Dimensions: 33″ L x 33″ H x 45″ H
Freight Class: 85
HTS/TARRIFF Codes: 7326.90.8588
Overseas freight charges are usually in the $1800-2500 range, but inquire for specifics.
Ordering
The PP20 Power Pallet costs between $28-$40,000, depending on features and specific markets. Please contact info@allpowerlabs.com for more details.
To place your order or request a formal invoice, please use our contact page. A sales representative will contact you  to discuss your intended project and make sure that the Power Pallet is right for you.  Once you receive your formal offer, you can use the following button to pay your reservation fee.
All prices are Carriage Paid to Terminal (CPT), Berkeley, CA, 94710. California sales tax of 9.00% applies to all orders within California.