v3.0 Biomass Gasification System (CharPallet 25)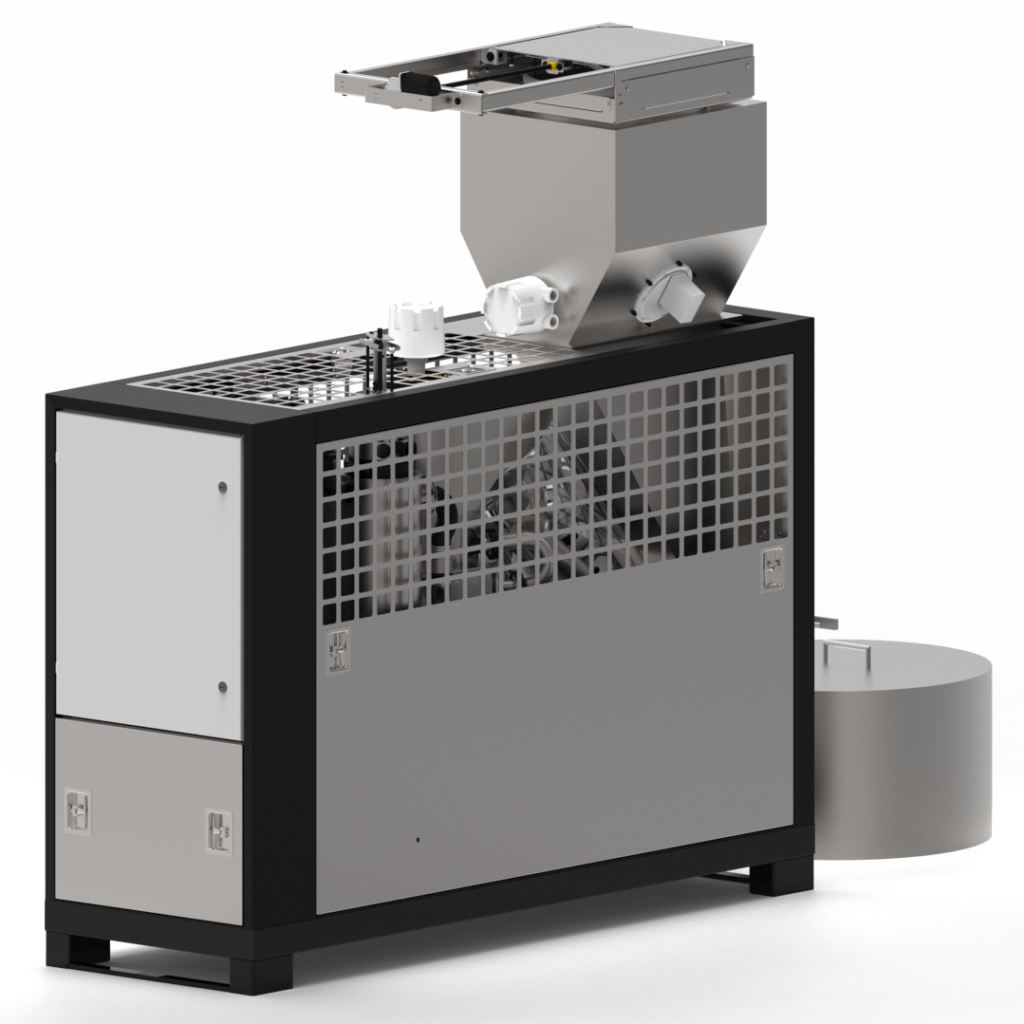 The ALL Power Labs CharPallet 25 (CP25) integrates extensive innovations into our third-generation smart, compact, and versatile v3.0 biomass gasifier system which can convert up to25 kg/hr of waste biomass into biochar, syngas and heat. These developments are in response to increasing demands for reliable biomass processing for the biomass/biofuel research sector, efficient biomass waste disposal, and high-quality biochar for the agronomy and climate/carbon mitigation sectors.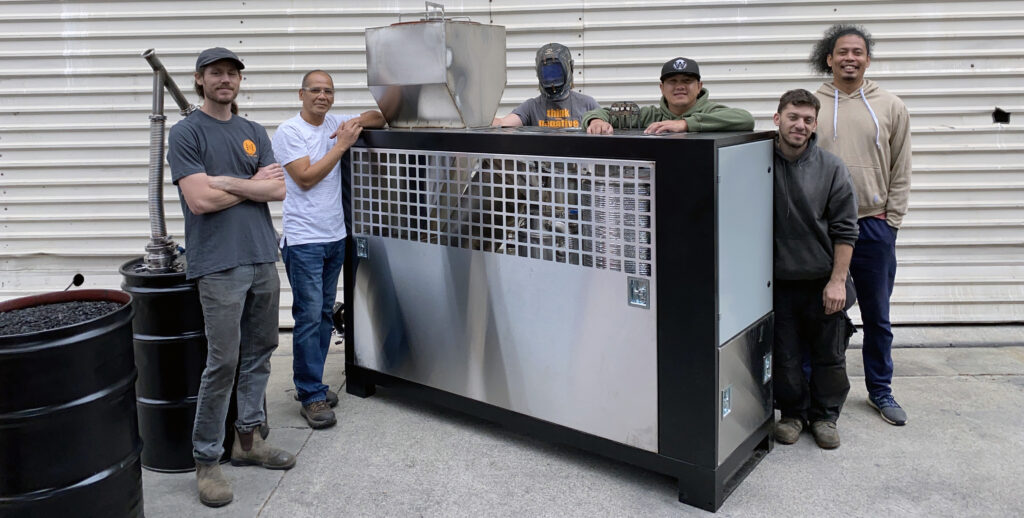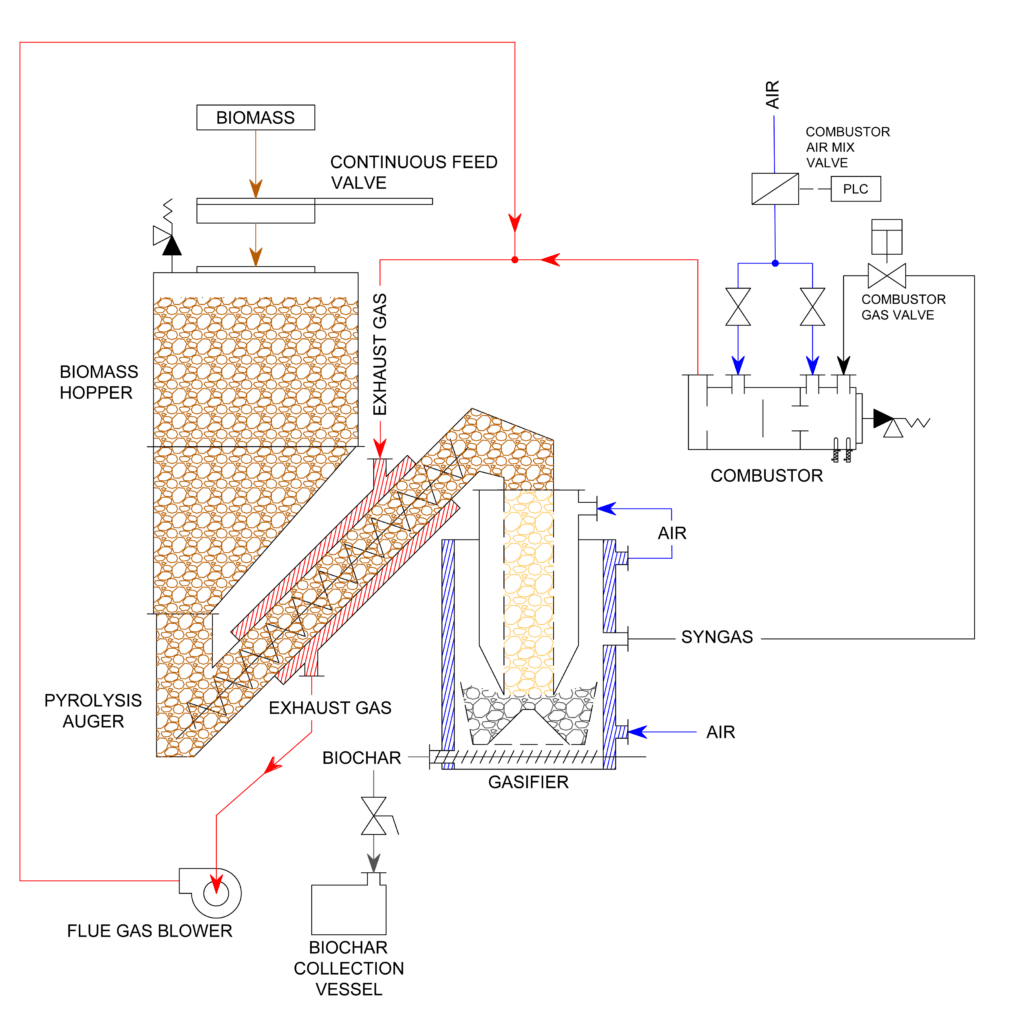 Following are a few key features:
Improved Gasification Process:
Multi-stage and process-separated architecture for individual control of various stages
Swirl hearth allows feedstock flexibility by removing dependence on void space for tar conversion
Complete tar conversion via internally integrated partial-combustion cracker chamber
Reduced clinkering due to removal of air blast from char bed
Forced convection pyrolysis reactor for controlled pyrolysis ramp rate and high heat transfer for high throughput
High-temp biochar removal from reactor to isolated cooling chamber prevents pollutant condensation on char.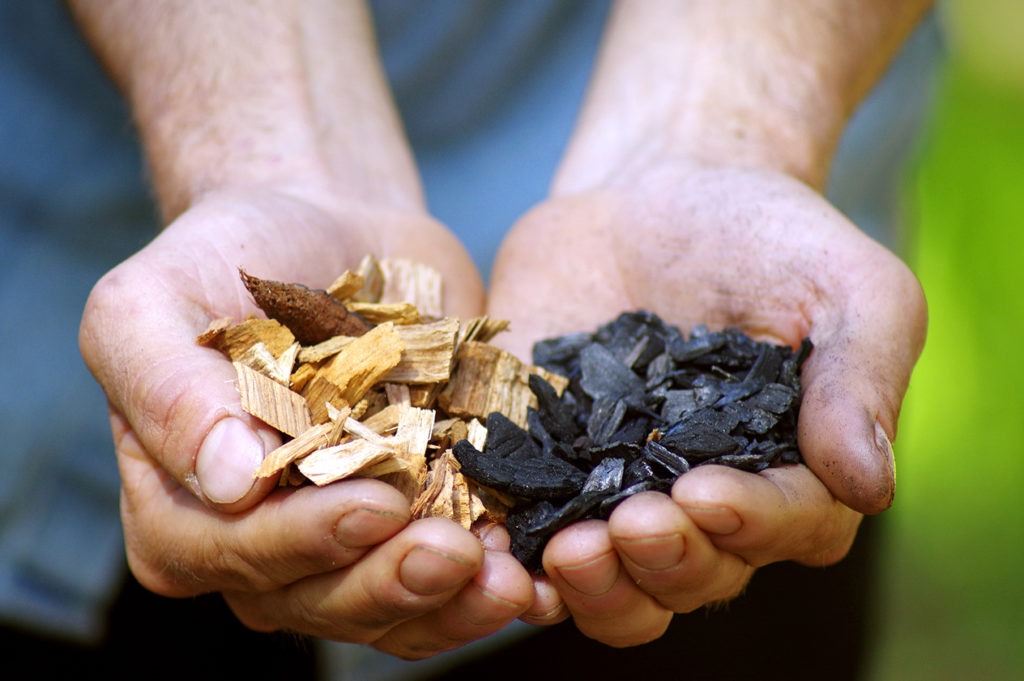 Excellent Carbon and Gas Outputs – Extensive testing and process refinement for more than a decade results in high-quality product outputs:
Exceptionally clean biochar which meets USBI, IBI, EBC standards with less than 6 mg/kg PAH
Engine-grade gas composition whose tar fraction at only 5-50 mg/m3 at reactor exit allows simplified final gas clean up for engine or syngas up-migration
Emissions profile meeting EPA and California standards
Smart Technology – Smarter than any previous APL products, the CharPallet uses Internet of Things (IoT) protocols and systems that include:
Extended control and sensor automation
New friendlier User Interface (UI) and process control systems
Data Collection to support Measurement, Reporting and Verification (MRV) for carbon markets
Automated operations including start-up and shutdown
Internet of Things (IoT) protocols to allow wireless integration with third-party platforms
Modular Design – The v3.0 biomass gasification system is configurable to support the following use cases:
Biochar Production – Biochar production and use are widely accepted and vital components of Carbon Dioxide Removal (CDR) and biochar markets. The CharPallet can process up to 25 kg/hr biomass producing up to 5 kg/hour of high-quality, high-temperature, electrically conductive SkyCarbon biochar which has been certified to IBI standards.
Research and Development – The CP25 is an ideal platform for R&D in the renewable energy, alternative fuel and biomass conversion demonstration and experimentation with the addition of on-board gas filtration system and a customizable suite of sensors, data-recording options, and control feedback algorithms. The system generates clean and consistent producer gas output making it an excellent solution for various biofuel applications, particularly Renewable Natural Gas (RNG), gaseous-to-liquid fuel conversions, hydrogen production, or other novel biomass/syngas programs. Please contact APL for a quote.
Electrical Power Generation – The CP25 has been abstracted with the well-considered selection of components and mechanical design that simplifies integration with a wide range of engine and generator sets.
Thermal Power Generation – The v3.0 biomass gasification system can also be configured to extract up to 50 kWth of heat.
Carbon Removal – APL has been working with biologists, agronomists, farmers, and climate researchers to perfect biochar application techniques and Biochar Carbon Removal (BCR) technology, which has recently been promoted by the EU Parliament's AGRI committee to have equal standing with with other carbon removal techniques such as Direct Air Carbon Capture and Storage (DACCS) and Bioenergy with Carbon Capture and Storage (BECCS). The production of high-durability biochar in all use-cases and configurations makes the v3.0 gasification system a simple and accessible solution for immediate, scalable, distributed carbon removal.
Product Release and Availability
We are planning for pre-sales of the CharPallet to support limited production release in 2024 with target base price of $30K USD.
We will be able to meet this target by getting a minimum number of reservations to enable negotiations with our suppliers. Reservation fee is $300 per unit and adds you to the production queue.
Click for CharPallet reservation here.
Please fill out this Contact Form along with details of your use case so we can respond appropriately.
---
FAQ
Click to View Frequently Asked Questions:
The Pilot version of the CharPallet will be available to a limited number of customers starting in early 2024. We expect to have units available to retail customers towards the end of 2024
The CharPallet will be released in pilot programs in California in 2024. Other regions to follow soon after.
We expect the base system to be less than $30,000 and a more fully featured and instrumented research version to be available for less than $40,000.
• The CharPallet is an excellent tool for academic institutions working in R&D or education in the biochar and renewable energy spaces.
• Users with biomass waste streams can use the equipment for on-site disposal to minimize waste disposal logistics and costs.
• Small agricultural producers and gardeners can turn their woody waste into a value-added product that can be sold, traded, or used as a key ingredient in restorative soil amendments, minimizing their carbon footprints while adding reputational value to their products.
Please review this Appropriate Feedstock link. However, ongoing testing and refinement of our novel tar-cracking Swirl Hearth reactor architecture indicates greatly expanded compatibility with a wider range of feedstocks. So far we have confirmed its ability to handle much finer biomass particles: ~0.125 in. (~3mm), than our previous reactors.
The quality of the biochar produced is highly conductive with extremely low tar/PAH content. Please review these Skycarbon Specifications which show biochar qualities and certifications for walnut feedstock. We have been recording similar results with for other feedstocks.
The emissions are kept very low through a sophisticated cyclonic combustor with real-time NOx feedback for mixture optimization. Third-party emissions testing to EPA standards is in process. We will continue to share results with potential customers.
The CharPallet is planned to be a Combined Heat and Biochar (CHAB) production reactor with a biochar output of 5kg/hr compared to the PP30's 2kg/hr. It can be configured to provide 50kWth heat output, similar to the PP30 but without electrical power output and at roughly half the footprint and price, and one quarter the weight of the PP30.
Yes it can, but fueling an IC genset with the CharPallet's syngas output requires a number of additional components and considerations. APL can provide engineering services for suitable use cases. Feel free to contact us for help.
---