Thank you for your interest in our technology! Here are answers to the most frequent questions we get. Don't see yours listed? Email sales@allpowerlabs.com.
Feedstock requirements:
Access to appropriate feedstock is the first and most important consideration that will determine whether or not the Power Pallet is right for your application.
For a detailed list of suitable feedstocks, please see this feedstocks page.
Our gasifier requires wood-like biomass such as wood chips and tree nut shells (including coconut).
The moisture content must be less than 30%. Drier feedstock performs better.
The pieces must be larger than 1 cm, but smaller than 4 cm (Screens are included to sift feedstock).
Using an unapproved feedstock will void the warranty.
The following feedstocks will not work with the Power Pallet.
Manure products of any kind, including chicken litter
Municipal Solid Waste (MSW)
Sawdust, wood pellets, and briquettes
Coffee byproducts: coffee parchment, grounds
Rice husk and straw
Sugarcane bagasse
Coal
Palm fruit bunches, palm fronds
Bamboo (it is promising, but it is not yet approved)
---
Conversion rate:
The Power Pallet converts biomass into electricity at the rate of 1 kg of feedstock to 1 kWh of electricity. The following table shows the approximate mass of feedstock required per period of operation:

---
Biochar:
The Power Pallet PP30 currently converts about 5% of the feedstock into char-ash, which is usable as biochar soil amendment. The machine is not designed primarily for biochar production; this biochar is only a byproduct of gas production. But our newest product, the CharTainer, our Combined Heat and Biochar (CHAB) pyrolyzer system, can convert 250 kg per hour of woody waste into 50 kg of the highest quality, high temperature, electrically active biochar while generating 500 kW of hydronic thermal energy.
---
Electrical and thermal load capacity:
The PP30 Power Pallet has a minimum required load of 3kW to keep the reactor hot enough to produce clean gas, and a maximum continuous electrical output of 22 kW at 50 hz, and 25 kW at 60 hz; when stabilized by an active grid connection this increases slightly to 24 kW at 50 hz, and 27 kW at 60 hz. Thermal output is proportional to electrical output, 1.5 times with the standard 2 stage CHP and double with the optional 3rd exhaust stage. If you have an individual load that exceeds the capacity of the Power Pallet, it is possible to synchronize multiple Power Pallets together using our grid-tie module to form a microgrid with greater capacity.
---
Runtime and frequent maintenance items:
The Power Pallet is intended to operate in sessions that are 12-15 hours long. It is not designed to run 24 hours a day, seven days a week. The most common maintenance items are emptying the char-ash canister, the cyclone soot canister, and draining the condensate vessel. These are done daily.
In general, the maintenance and repair required for the complex gasifier system will be in addition to whatever maintenance would normally be required on a fossil-fuel-powered genset. Also due to the nature of the syngas, maintenance on the genset's engine will be somewhat higher than on a comparable fossil-fuel genset.
For additional information about maintenance items, see the maintenance section in our Operator's Manual.
---
Facilities requirement:
The Power Pallet needs to be kept out of the rain and away from excessive sun exposure. The facility you house the Power Pallet in should have excellent ventilation, and should have a fire-proof hood over the start-up flare. The minimum clearances required for the machine are indicated in this graphic: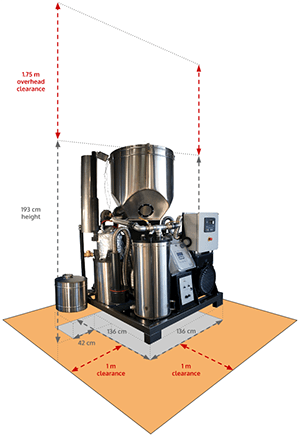 ---
Pricing:
If you are interested in purchasing a Power Pallet, we can prepare a price quote for you. Each unit is custom made to our customers specifics in our Berkeley facility. Please contact sales@allpowerlabs.com.
---
Payment and shipping terms, and lead time:
The terms of payment— 50% downpayment, 50% before delivery. We ship door-to-port, according to incoterms EXW (ex-works).
The lead time is 120 days from the date of downpayment. If you would like a shipping estimate, please email us and let us know what port at which you would like to receive the shipment, and we will obtain an estimate. But please note that the price of shipping often changes between the time of ordering and the time the item is ready to deliver.
---
Warranty:
We offer a money back satisfaction guarantee with some limitation. See our warranty page for details on this guarantee and the warrantee we provide for our products. http://www.allpowerlabs.com/products/warranty
---
Power Pallet options and accessories:
The Power Pallet has several options and accessories that may make it better suited for your intended application:
Continuous feed hopper lid — at sustained high loads, the PP20's hopper will need to be refilled too frequently to be cost effective as a manual task. The level sensors that come with this accessory detect low feedstock conditions and activate a farm conveyor (which you will need to provide) and open the hopper lid for loading. As soon as the feedstock level is high enough, the hopper lid and conveyor are deactivated.
3 Stage CHP accessory — 2 stage producer gas and engine coolant combined heat and power (CHP) system is now standard equipment and can recover up to approximately 30kW of thermal energy via a hydronic loop. An additional 3rd stage using an exhaust gas heat exchanger is optional and can deliver up to 50kW thermal energy.
---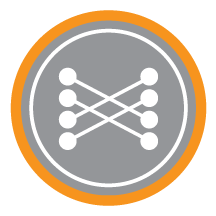 If you have any additional questions, please email me, and I will do my best to answer your questions.
Silvia Sandri
Director of Sales
ALL Power Labs
1010 Murray St.
Berkeley, CA 94710

---
Interested in learning more about ALL Power Labs gasification systems? Come to our open house, the second Friday of each month. Electric Vehicles eat for FREE! Bring yours and we'll feed it electricity produced sustainably from wood chips and nut shells.