ALL Power Labs works with universities, high schools, and government institutes around the world to advance the science of gasification and help develop sustainable and renewable technologies. APL can help teachers and students alike build programs, set up research projects, and teach classes on a broad array of biomass thermal conversion processes. Always eager to support advances in the science and technology of not only gasification but of all carbon-lean biomass energy projects, APL offers continuing support to numerous academic and industrial research programs.
---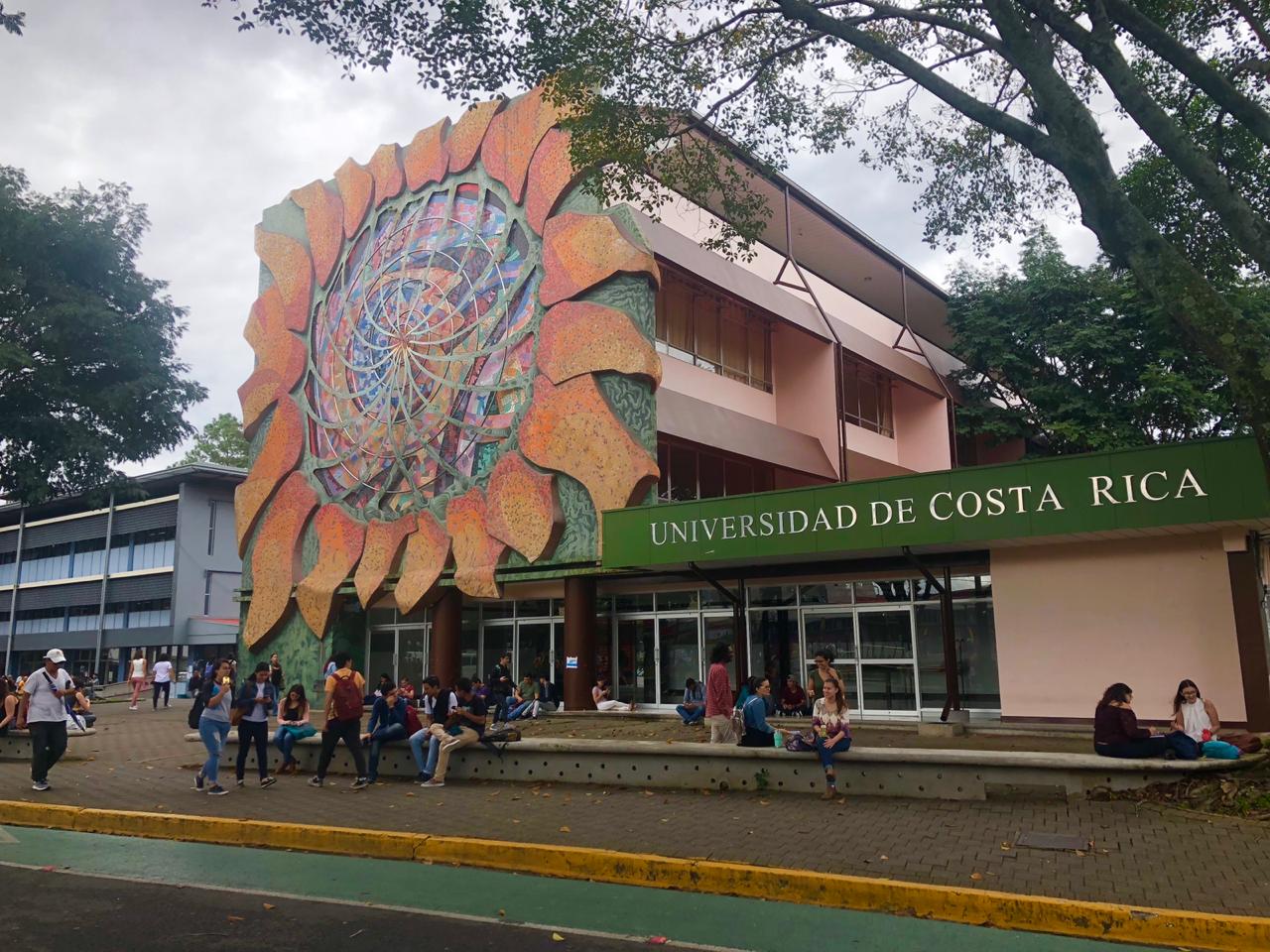 University of Costa Rica - November 2019
APL provided a new PP30 to the University of Costa Rica. Their School of Agronomy is committed to carrying out scientific and technological research in agriculture, contributing to the development of society, and that promotes transformations needed for the future health and success of the environment and society. We are hopeful that their use and study of APL equipment can help them further these goals.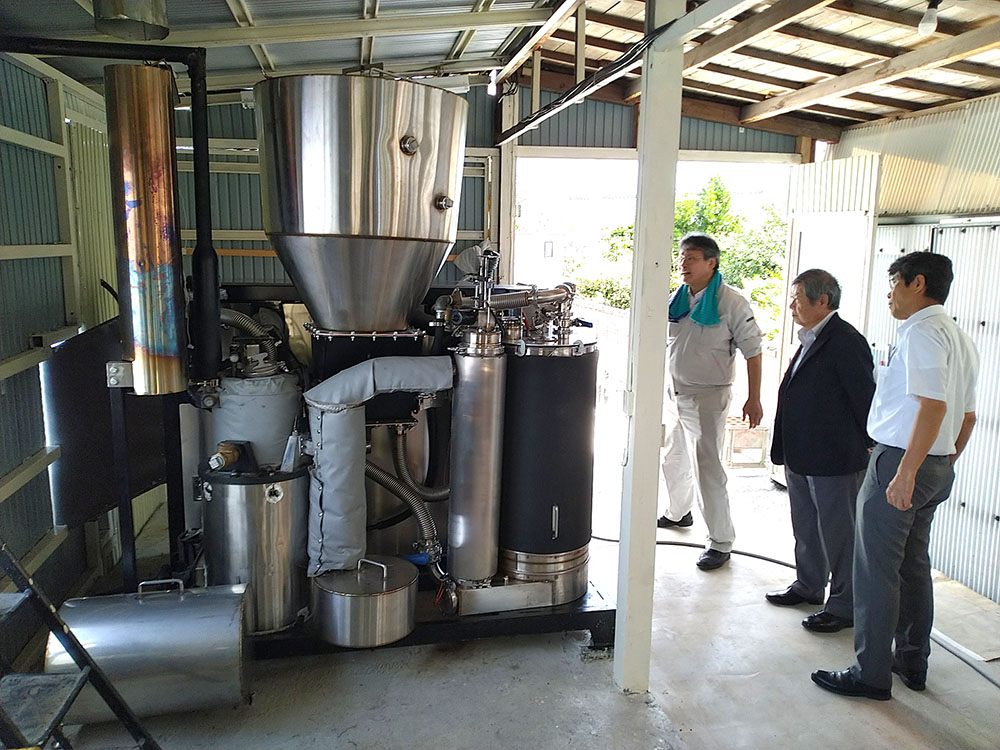 Ecostage, Tokyo, Japan - October 2019
APL provided a new PP30 to Ecostage. Ecostage believes the earth where we live is irreplaceable, and that they have an obligation to contribute to the global environment as a responsibility to future generations. Their work with alternative energy deployment is welcome and important, and APL is proud to help them build the biomass component of their environmental efforts.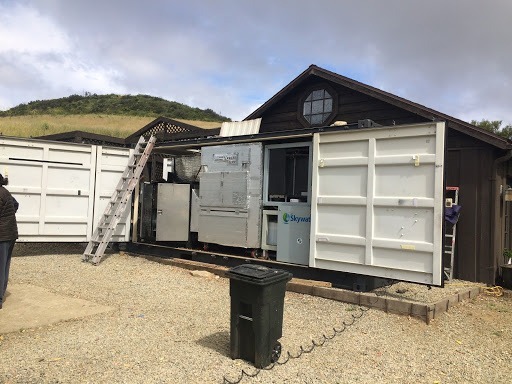 Hertz Ranch, Malibu, California, USA - January 2019
As Part of our partnership with the Skysource/Skywater Alliance, the prototype WEDEW Atmospheric Water Distiller, powered by a PP30, was installed at David Hertz and Laura Doss-Hertz's ranch in Malibu, California. Ongoing development, following our winning of the Water Abundance XPrize, is aimed at producing portable units able to be deployed at disaster sites worldwide.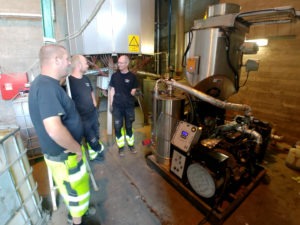 DeNova, Frederiksværk, Denmark – June 2018
This PP20 was purchased by DeNova, a waste recycling and reuse yard at the port of Frederiksværk, about 50 km northwest of the capital city of Copenhagen. They see it as a challenge to find value in what others may think is just trash, using modern techniques to sort waste into fractions that can be recycled or reused. One way they hope to reuse biomass waste is by gasifying it. They plan to use their PP20 to explore how our efficient CHP systems can best fit into their mission to mine potential resources from the waste stream, trying to save the environment at the same time that they grow a successful waste-based business. Adding value by offsetting waste-disposal costs is an important part of APL's design strategy.



The University of Guyana, Greater Georgetown, Guyana - June 2018
The University of Guyana installed a PP30 to use for research in their Forestry and Agricultural schools on their Turkeyen Campus in Greater Georgetown.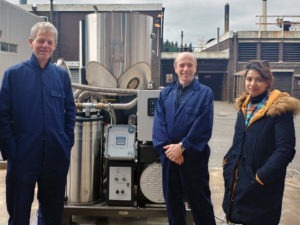 University of Chester, Chester, England, UK – May 2018
The Chemical Engineering department of the University of Chester in the UK installed a PP20 so that Professor John Brammer and his associates can study the details of the highly efficient thermal conversion in our GEK gasifier. The University of Chester is a public university with five campuses in the city of Chester, about 35 km south of Liverpool in northwest England. Professor Brammer has a Ph.D. in the production of energy from biomass, and considerable industrial experience in combustion (working on gas turbines at Rolls Royce). We look forward to Dr. Brammer's results using our technology and hope that others at the University of Chester find having access to this equipment useful in their work.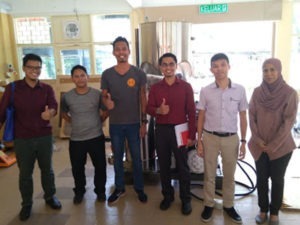 Universiti Teknologi Malaysia Skudai, Johor, Malaysia – May 2018
We installed a PP20 at UTM to be used for research into sustainable technology. UTM is a leading innovation-driven entrepreneurial research university and the largest postgraduate research university for technology in Malaysia. It has also established a reputation for innovative education and cutting-edge research, with a vision towards the development of creative human capital and the advancement of technological innovation.

CIRAD, Montpellier, France - April 2018
CIRAD, the French Agricultural Research Centre for International Development, is an organization working for the sustainable development of tropical and Mediterranean regions. We installed a PP20 at their Montpellier campus in the south of France to advance their mission with their partners in the global South to generate and pass on new knowledge to support agricultural development.

The University of Newcastle, Newcastle, NSW, Austrailia - March 2018
The University of Newcastle is as committed as we at APL are to improving the process of gasification. They installed a PP20 as part of this effort. They believe innovations in this technology are not only important economically for industry, but also valuable to society's overall quality of life, health, and environment. We look forward to the results of their studies and effort to help reduce energy poverty and address climate change.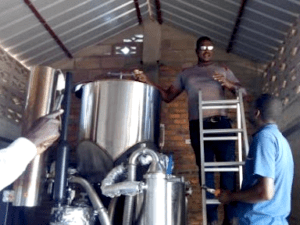 Rwanda Girls School, Gashora, Rwanda - Dec 2017
The Rwanda Girls Initiative operates the Gashora Girls Academy of Science and Technology – an upper-secondary girls' boarding school located in Bugesera District an hour south of Rwanda's capital city of Kigali. APL's tapped into its long-established relationships in Africa, especially with the Booker Washington Institute in Liberia, to place a PP20 at the Gashora campus. The school has an active agricultural program, operating a successful 14-acre farm on campus where they hope to perfect techniques for running the locally plentiful macadamia nutshells as feedstock.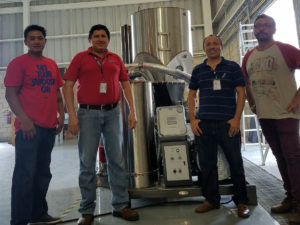 CICY, Yucatan, Mexico - Dec 2017
The Center for Scientific Research of Yucatán (CICY) has installed a PP20 Power Pallet at their campus in Merida, Yucatan. CICY is a public Research Center of the CONACYT (Mexican National Council of Science and Technology) focused on conducting basic and applied research to develop and transfer technology that promotes the development of a society in harmony with the environment. CICY has a strong focus on climate change due to the Yucatan's extensive forests and abundant resources that can be used for bioenergy, such as wastes from the agri-food industry. Part of the CICY's mission is to become a key entity in Mexico's transition to a sustainable energy economy, and APL is proud to help them achieve this goal with the help of our technology.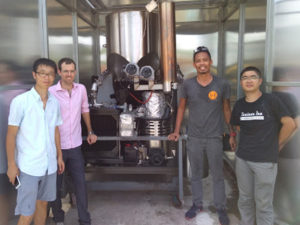 National University of Singapore (NUS), Singapore - Dec 2017
NUS has installed a PP20 to contribute to research on bioenergy and gasification. NUS began over 100 years ago as a small medical school, today, it is Singapore's flagship university. A world-class research institution, teams at NUS are working in the same areas of interest as APL, studying gasification technologies and the acronomic uses and benefits of Biochar. We hope that having access to our machine helps them make breakthroughs in this important research space.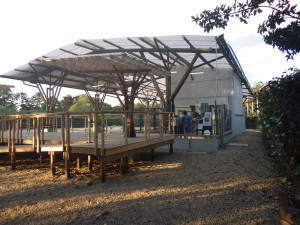 El Jardín Botánico, Bogota, Colombia - Nov. 2014
Two PP20 Power Pallets were installed in the José Celestino Mutis botanical garden. Located in Bogota, the Jardín Botánico is Colombia's largest botanical garden and serves both as a recreation and research center. Our biomass gensets are part of a program to create a sophisticated demonstration site featuring multiple forms of renewable power generation integrated into a micro-grid, which ties the PP20s to a solar array and an energy storage system. Their lovely facility is the focus of educational outreach surrounding environmental and conservations issues, as well as general science education for both children and adults. APL is pleased to be a part of this excellent program.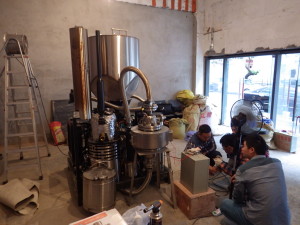 Green Energy GEE, China - Nov. 2014
Using a PP20 v5 and working with university partners, Shenzhen Green & clear world Environmental Engineering (GEE) is developing a syngas-to-liquid reactor. Focusing on the commercialization of environmentally responsible projects, GEE's Power Pallet is part of a program to process municipal solid waste (MSW) into a transportation fuel. They are working to integrate their system into the solid-waste disposal chain of a large Chinese city to develop a product based on its specific local needs. GEE is using a proprietary catalytic system that promises to increase the yield of syngas and lower the temperature needed, while minimizing tar and other by-products. The ability to process MSW in our gasifiers is a long standing, but still remote goal for APL, and we welcome GEE's efforts to solve this difficult problem.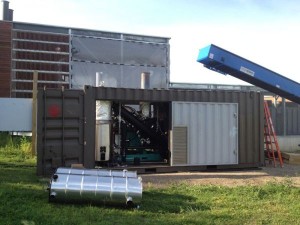 University of Minnesota, Morris, Minnesota - Jun. 2012
In a partnership with Cummins Inc., APL worked with University of Minnesota in Morris to develop a prototype shipping-container-based 100 kW genset running on Minnesota's plentiful agricultural waste corn cobs. With the help of a grant from the California Energy Commission, APL is currently partnered with University of California, Berkeley's Center for Forestry and their Renewable and Appropriate Energy Laboratory to develop this unit as a commercial genset: the 150 kW Powertainer. Our goal is to incentivize forest fire and bark beetle remediation in the Sierra Nevadas by creating a market for the forest waste as an energy resource.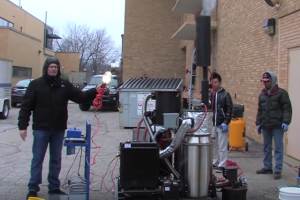 Eastern Illinois University, Charleston, Illinois - Feb. 2012
With one of the largest biomass renewable energy projects in the country, EIU students and faculty use their Power Pallet to do testing and research on biomass feedstocks and gasification. EIU Renewable Energy Center provides all the heating for the whole campus, using multiple biomass boilers to provide much of this energy. Their use of biomass gasification on a significant scale makes them an ideal site for an educational installation of an APL Power Pallet.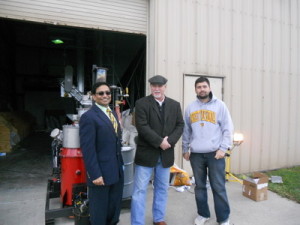 University of West Virginia, Morgantown, West Virginia - Aug. 2011
Like so many other colleges and universities that have purchased Power Pallets, West Virginia University (UWV) uses our equipment to help their students do hands-on research and learning in their programs in agriculture, conservation and resource management. WVU's Davis College of Agriculture, Natural Resources and Design thousands of acres of farms and forests is uniquely situated to address important research in fields from food and shelter to energy and environmental protection. APL's first focus was in research and education, and we are proud of our relationship with institutions like UWV.
Customer Highlight: Eastern Illinois University
Eastern Illinois University uses the GEK PowerPallet to educate students about gasification. They have set up real time gas detection to analyze the wood gas while running the system. In this ~9 minute video, they walk through their experiences with start-up and running the PowerPallet and how it fits with their intentions to sustain their energy needs from local resources from consistent energy sources.
"Dr. Jerry Cloward, an Assistant Professor in the School of Technology at Eastern Illinois University, talks about the School of Technology's Gasifier Experimenter's Kit."

Note that there is a good shot in the video showing the way we recommend sampling the wood gas from the system to ensure that condensate does not foul the analyzer equipment by attaching a long copper coil between the sampling port and the analyzer. It is recommended to include a small trap right before the gas analyzer. If you do have condensate, this can be collected for analysis as the liquid fraction by other means.
They are investigating a variety of their local feed stocks with the system and are looking into larger scale projects at their Renewable Energy Center.
---
APL has been proud to assist all of the institutions below in using GEK Gasifiers in their research programs.


BEE Lab (Bio-Energy Efficiency Lab)
University of Modena and Reggio Emilia, Italy<

Art Institute of Chicago
Chicago, Illinois, USA



University of Alaska Fairbanks
Fairbanks, Alaska, USA

Appalachian State University
Boone, North Carolina, USA

Aston University
Birmingham, UK

Minnesota State University
International Renewable Energy Technology Institute

Louisiana State University
Louisiana Forest Products
Development Center School

Masdar institute of Science and Technology
Abu Dhabi, United Arab Emirates

McGill University,
MacDonald Campus
Montreal, Quebec, Canada

Michigan State University
East Lansing, Michigan, USA
Morrisville State College
Morrisville, New York, USA

Queens University
Dept. of Mechanical & Materials Engineering
Kingston, Ontario, Canada
Suzuka National College of Technology
Japan
University of Minnesota
Morris, Minnesota, USA

University of Cape Town
Western Cape, South Africa

Griffith University
Australia

University of Rome Tor Vergata
Department of Mechanical Engineering
Rome, Italy

University of California
Merced, California, USA

University of California
Davis, California, USA

University of Illinois
College of Agricultural and Biological Engineering
Urbana, Illinois, USA

Uppsala University
Department of Science
Uppsala, Sweden

West Point
West Point, New York, USA

Laguna Creek High School
Elk Grove, California, USA

Lambton College
Sarnia, Ontario, Canada

Maharashtra Institute of Technology
Aurangabad

Rogue Community College
Grants Pass, Oregon, USA

Windward Education and Research Center
Klickitat, Washington, USA

University of Hawaii
Kauai Agricultural Research Station
Kapaa, Hawaii, USA

Pioneer Astronautics
Lakewood, Colorado, USA

State of Israel
Agricultural Research Organization
Volcani Center
Bet-Degan, Israel

Tyndall Air Force Base

INX Labs
Groveland, Florida, USA

Natural Resources Canada
Ottawa, Ontario, Canada

US Army Corps of Engineers Energy Office
Champaign, Illinois, USA

USDA Agricultural Research Service

Mississippi State University
Chemistry Department
Starkville, Mississippi, USA

University College of Dublin
UCD Lyons Research Farm
Belfield, Dublin, Ireland

Univ. of Exeter
Camborne School of Mines, Tremough
Penryn, Cornwall, UK

AnthroTerra
Australia

Applied Research Associates
Florida, USA
---
Choosing a Project:
If you don't have any equipment yet, its best to match your GEK system with your educational goals. (We recommend contacting us at sales@allpowerlabs.org to ask about our current lead times so that we can be sure to get you set up before your semester starts). We are now selling a skid-based GEK kit intended for you to add your own engine and generator, or to generate producer gas for any other purpose. While our most current gasifier technology is no longer open source, plans, CAD files and instructions for all our earlier versions are still available from our wiki to allow you to begin research on gasifier design and engineering.
We get many questions about where to set up the GEK Gasifier and Power Pallets for research purposes. Only operate or conduct maintenance on the GEK Gasifier or the Power Pallet in a well ventilated place. We have seen universities install hoods, negative pressure flues, or build a small single walled shed or roof structure to accommodate the equipment.
Other helpful links: