Need on demand, affordable, renewable energy?

Choose from either our basic PP20,
the PP20 with Optional Grid Tie Package (Left) or PP25 CE (Right)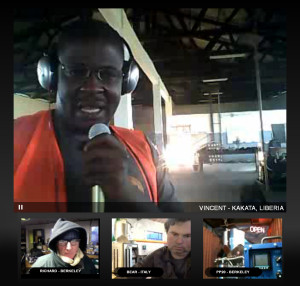 Thanks to everyone who tuned in to our recent live demo/webcasts. We ran two 24 hour nonstop demos in Berkeley, and streamed in reporting from a user site in Liberia, where they use their Power Pallets daily from 7am-4pm, as shown above. But the real action came from our operation in Terni, Italy. They held an impromptu live demo online that ended up going 101 hours.
ALL Power Labs
 is the new global leader in small-scale gasification.  We make biomass fueled power generators that are ready for everyday work, to serve real world distributed energy needs.
Our project started in 2008 with the open source Gasifier Experimenter's Kit (GEK), supporting research, education and DIY hacking in biomass thermal conversion.  Five years later the GEK has evolved into the Power Pallet, a full solution for personal scale biomass power generation.  Today you can find over 500 of our systems in over 50 countries, and supporting research in over 50 universities.
Our motivating goal is to deploy at scale a new type of energy product: a personal scale waste-to-energy appliance.  Imagine a "personal computer of energy" or a "washing machine of power"— a machine that intakes the "waste" biomass fuel already onsite, and converts it to multiple forms of power and products right where they are needed. 
Currently the Power Pallet supports electricity generation and could be modified to meet heat and shaft power output needs.   Soon we will add to this biochar, cooling/refrigeration, water purification, and in the much further future, liquid fuels.  
For specifics on our current products, visit our Gasification Store.
For more info on our long arc goals, see The Big Idea.
To see our machines in operation around the world, click on one of the user scenarios below.